Daily Learning Updates - W/B 15th June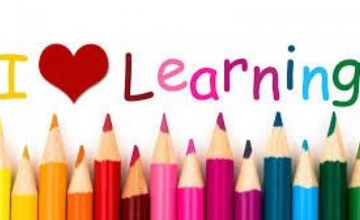 Hello Y5, we hope you've had an amazing weekend, enjoying the sunshine and relaxing! Here you'll find your learning updates as well as messages. Remember to update The Padlet with your great learning and email your teachers; we love to hear from you!
FRIDAY
Shout out!
Fantastic home learning from Anna below! Finley has also been completing great home learning - we love your positivity!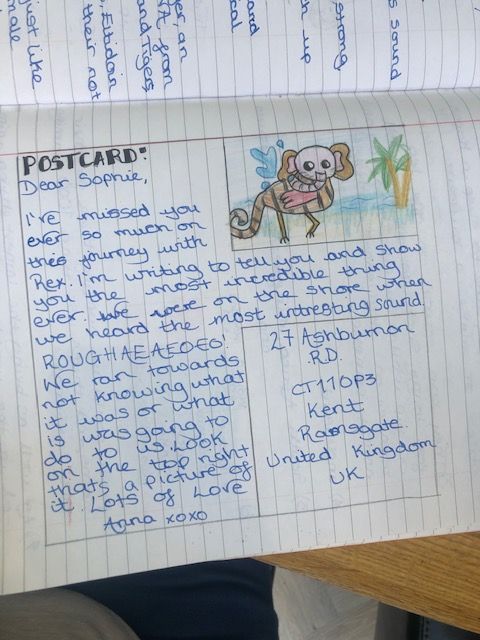 Evie.F has produced an amazing video based on her Maths learning - fantastic!
Creative home learning completed by Freya.E: Lovely planning completed by Tom - your handwriting is getting much neater with the use of a special pen: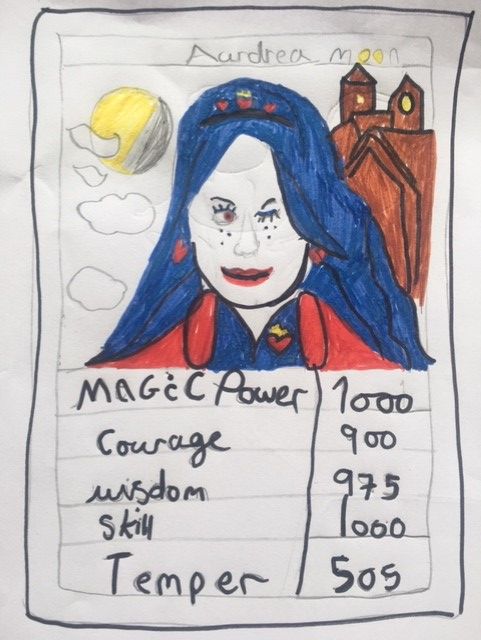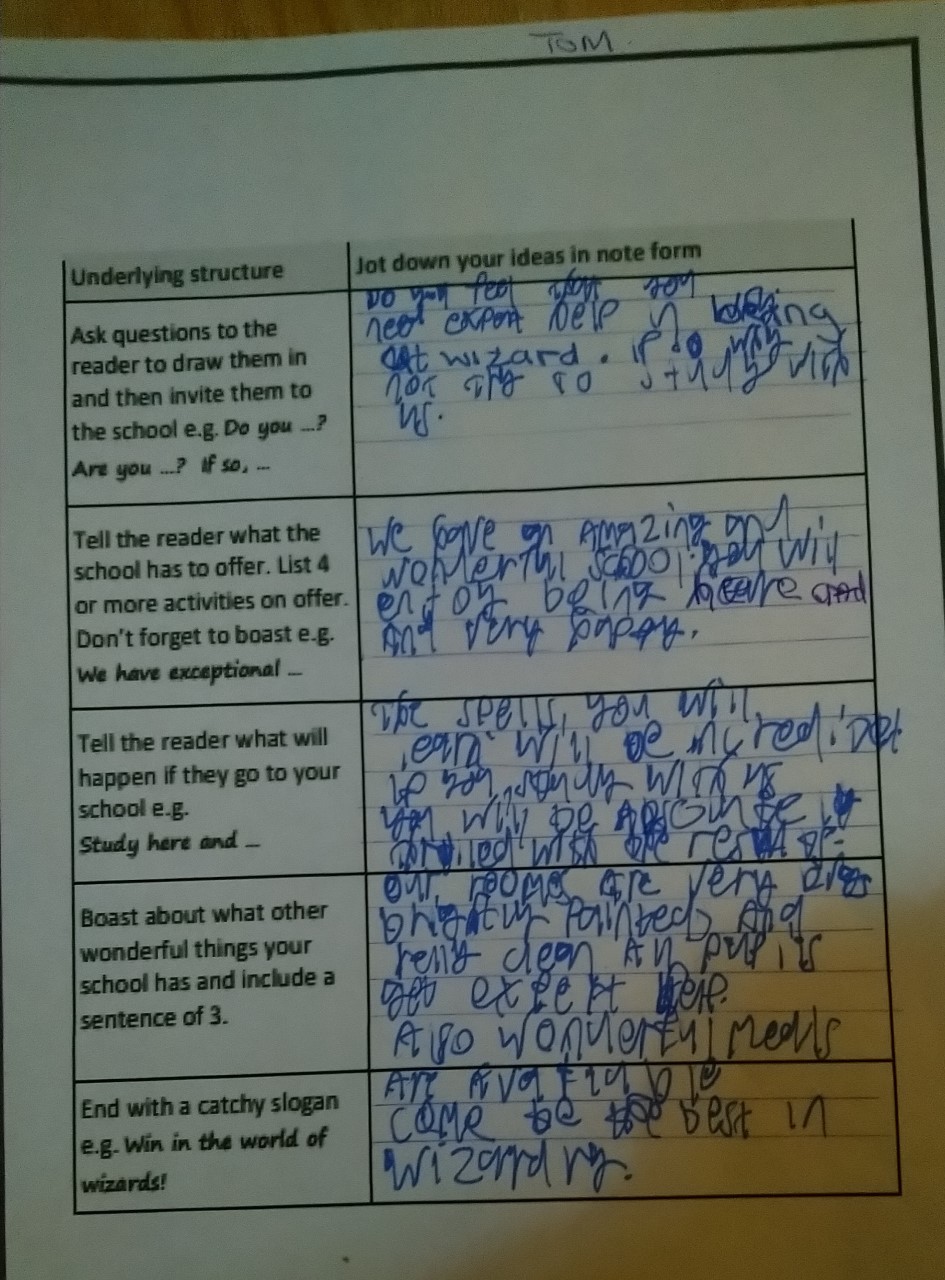 Great work and effort from Jack: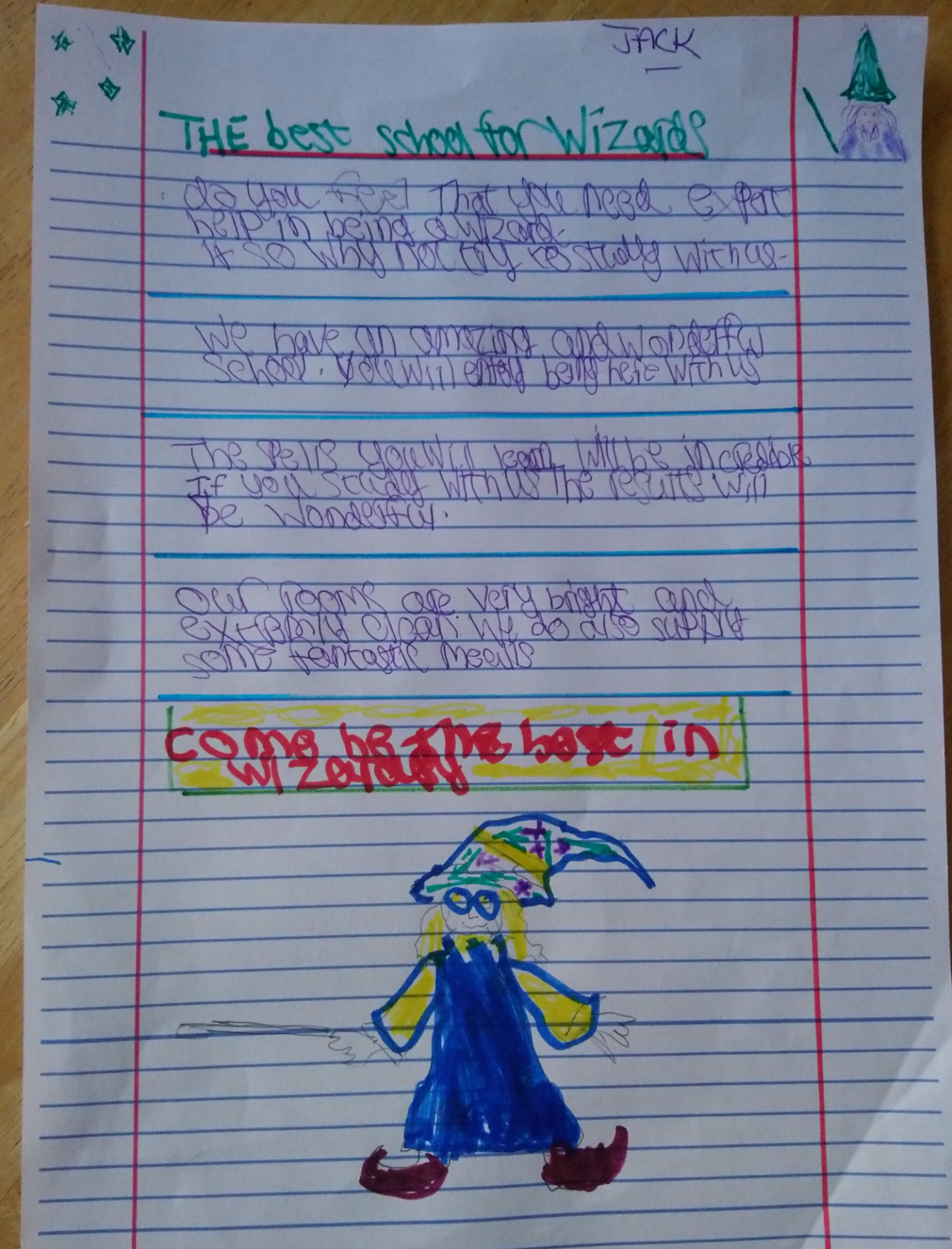 English - Using your persuasive writing from yesterday, you are to plan and present an advertisement for your Wizard School. Look at the document attached to support your learning.
If you can, present your advert to a family member! Remember to write feedback on The Padlet and send updates to your teachers.
Be confident, creative and sell/promote your wonderful wizard school!
Maths - Look at the task attached, which focuses on identifying and drawing different types of line using (what should have been) Tokyo 2020 Olympics!
Investigate the flags and answer some of the following:-
What shapes can you see in it? Can you describe them and their angles? Can you find any pairs of parallel lines? If so mark them on your flag. Are there any lines perpendicular to one another? Can you find a way to classify the shapes in your flag?
SPaG - This week you have focussed on 20 tricky words to spell. Today we would like you to test yourself or get someone to test you on how well you can spell them.
Let us know how many you get right the first time.
Afternoon Activities - You have a range of fun-filled activities attached and these are to be completed across the week.
THURSDAY
Shout out!
Well done to Finley with his home learning: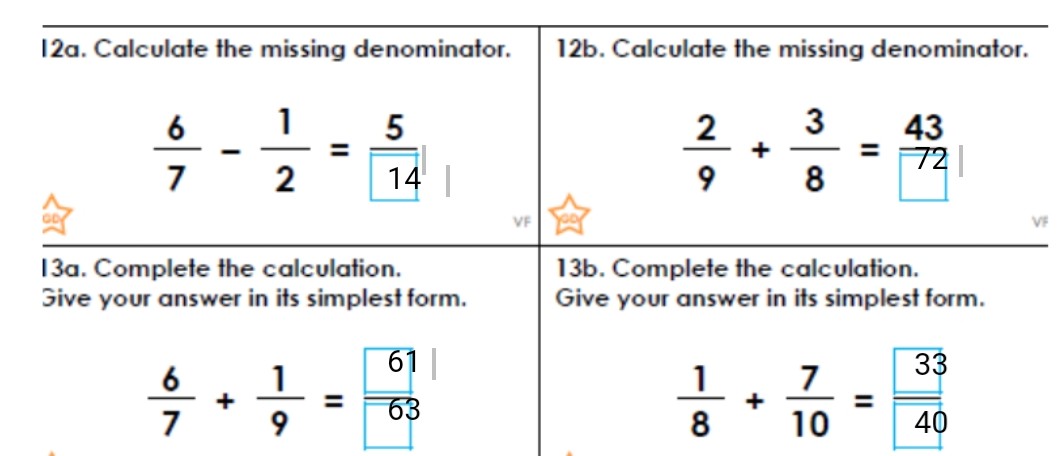 Sophia has completed some excellent English: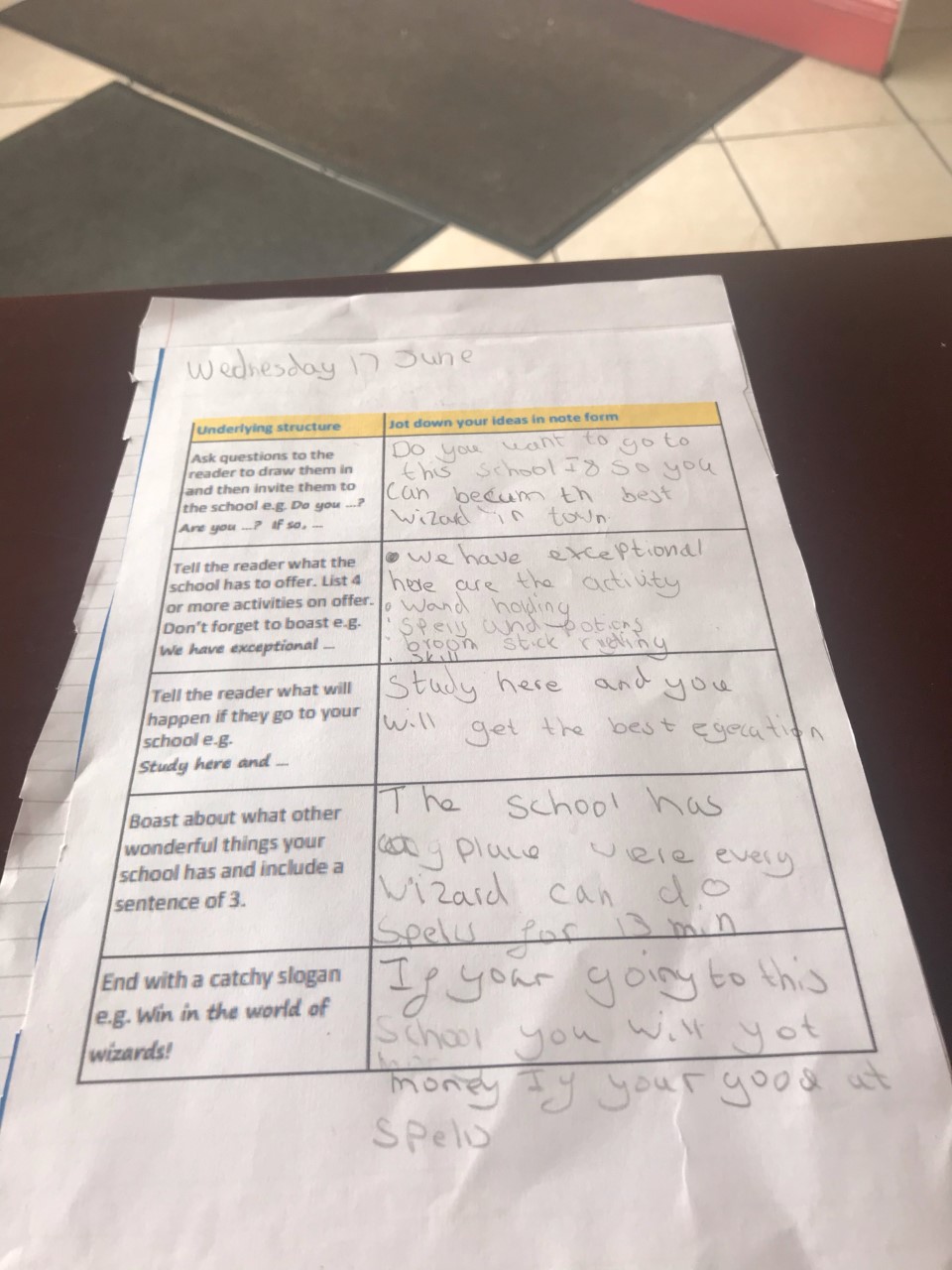 English -
Look back at the structure of the example text, the language used and your plan (of which included the key persuasive skills needed).
Today you are to write an advert to persuade someone to come to your wizard school.
Remember to focus on the following skills:
Language choice (weasel words – boastful, appealing adjectives)
Weasel phrases
Imperative verbs (bossy)
Rhetorical/leading questions
Maths - Today children we would like you to become the teacher.
Can you find out what the following maths terms (on the document attached) mean? Once you have found out find a way to teach someone else.
You could…
- Film a lesson – draw the lines and explain.
- Record your voice explaining the meaning.
- Create a poster
- Make up a rhyme, song or rap.
SPaG - Today we would like you to choose 5 words you have found tricky to remember how to spell (from the list)
Write a mnemonic for each one.
This is a mnemonic:
Because – Ben Eats Cabbages And Uncle Sucks Eggs
WEDNESDAY
Shout out!
Tom's completed some good English and well done for continuing to work hard with your handwriting. Jack has been working hard on his Maths too - great stuff!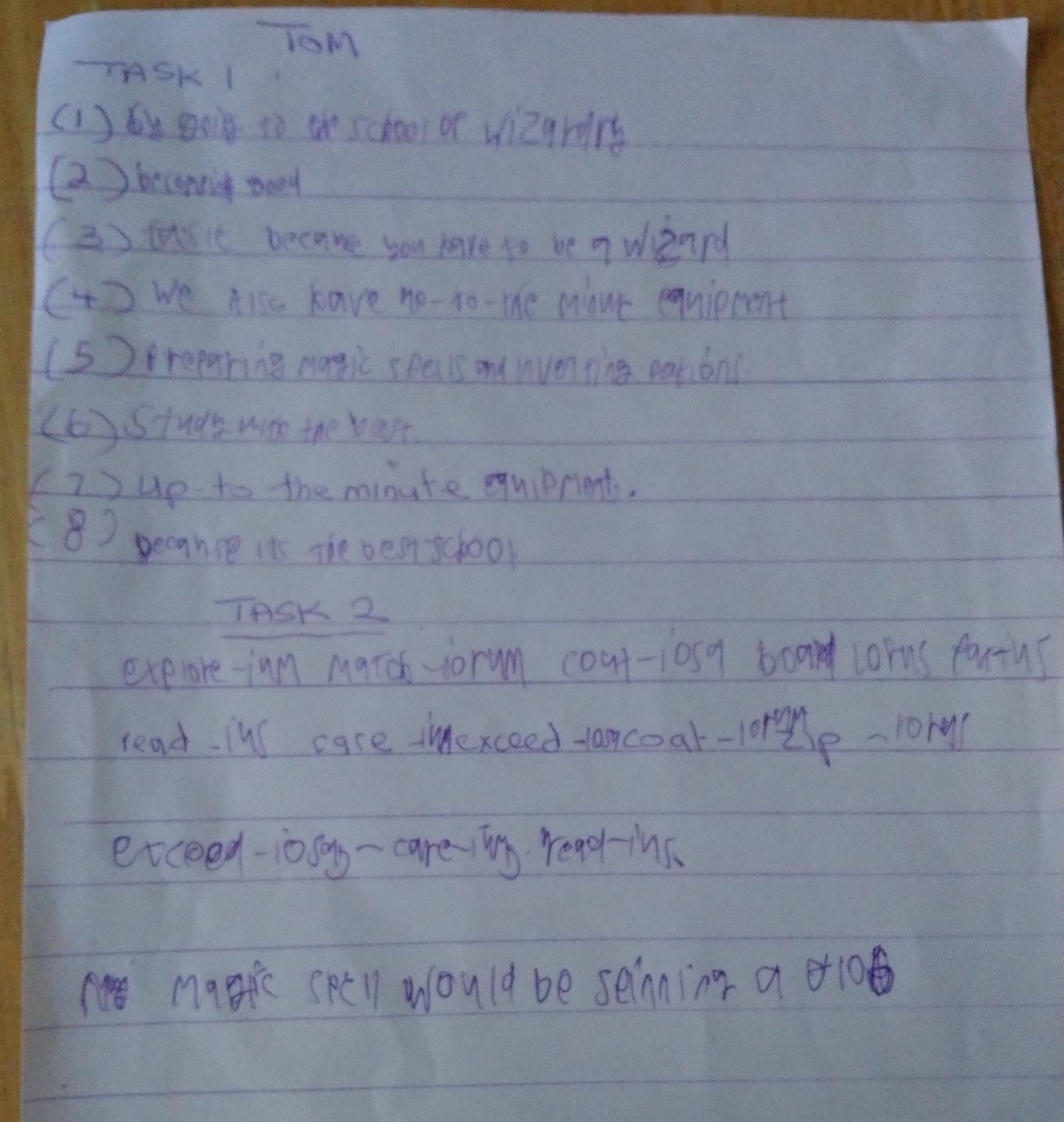 Excellent SPaG work from Sophia and Finley: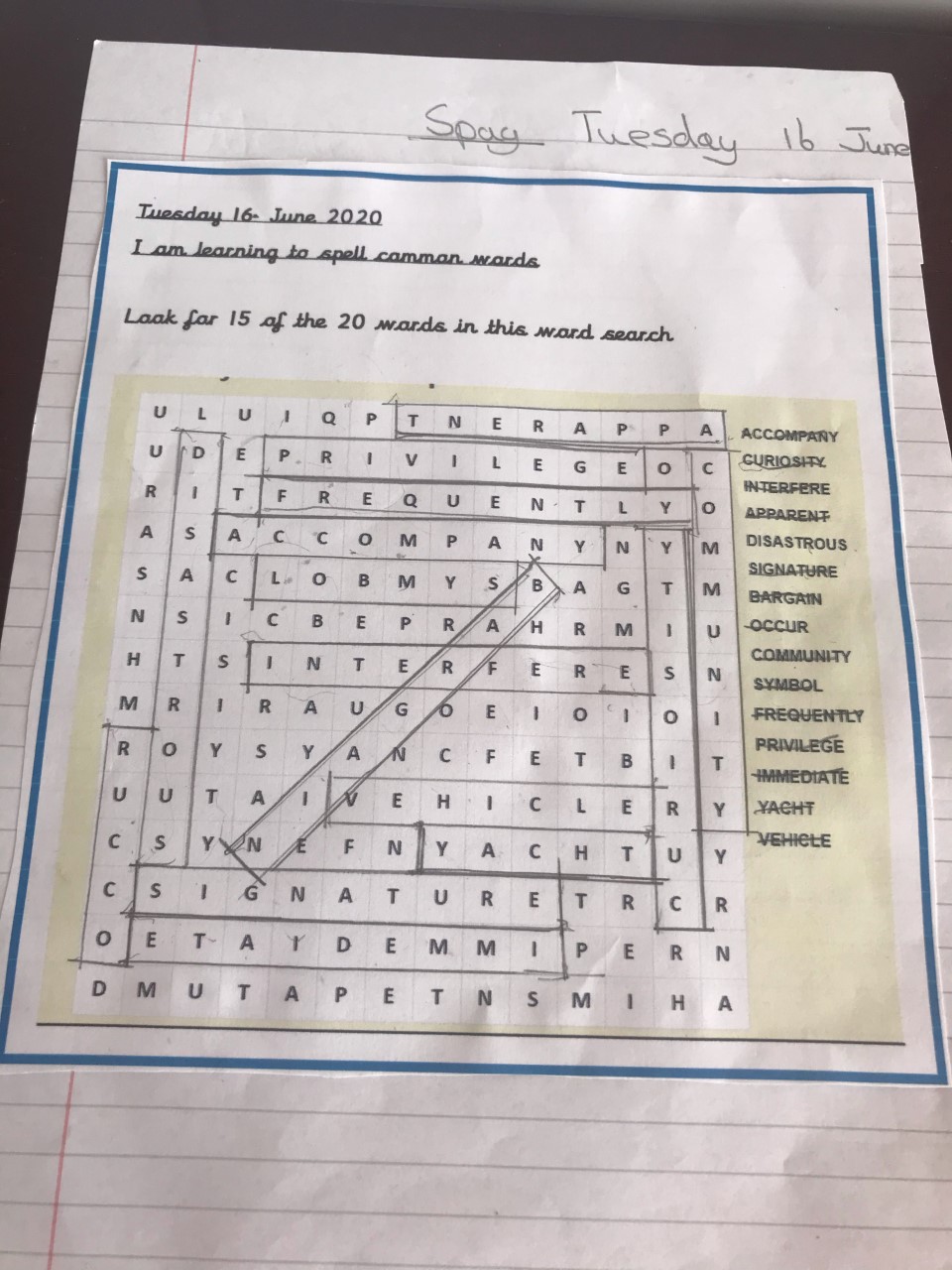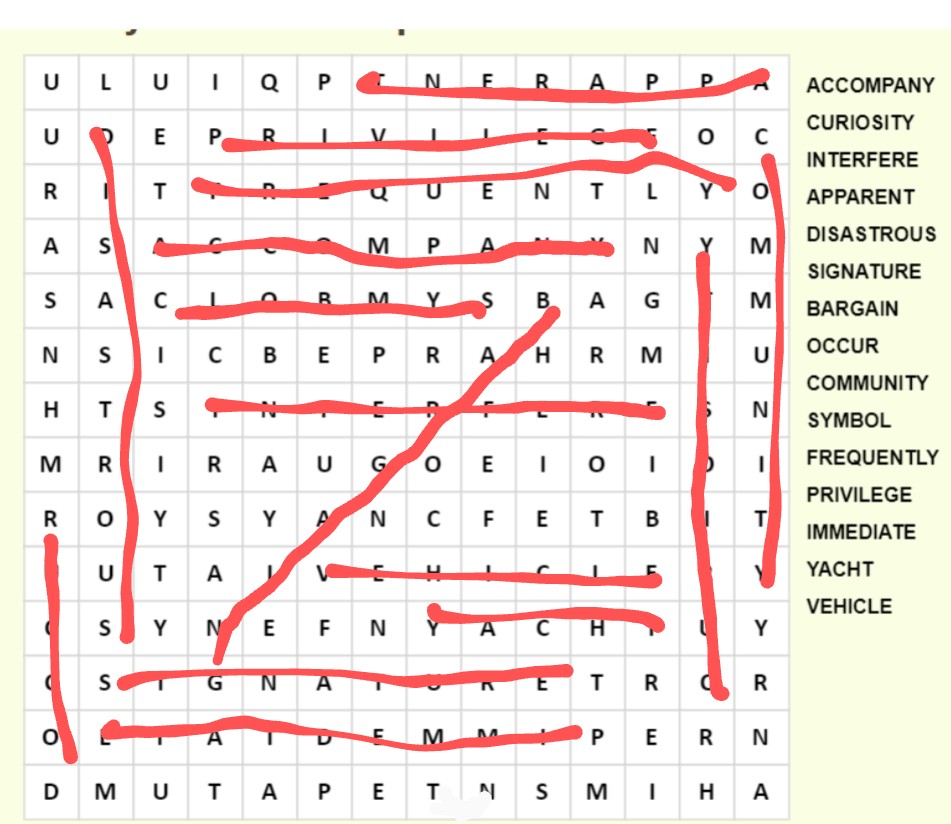 Evie.F has been enjoying her home learning and has even made PowerPoint's to showcase her learning - well done!
English - Recap your understanding of the persuasive advert from yesterday. Look at the document attached that discusses the persuasive skills used. Today you will plan a persuasive advert that promotes your 'Wizard School' and looks to persuade people to goo there. Use the template to help support the structure and skills required.
Maths - Today we would like you to investigate the heights of different animals. Last week's English made you familiar with several wild animals.
- List 10 wild animals
- Estimate their height
- Research what their average height is, record it.
Look at the activity attached to support your learning.
SPaG - Open the task attached which focuses on application of spelling common words.
TUESDAY
Shout out!
Well done to Nadia who has completed a range of beautiful home learning activities - she is even challenging herself with some Y6 Maths work!
Excellent English from Evie: Great home learning from Tom: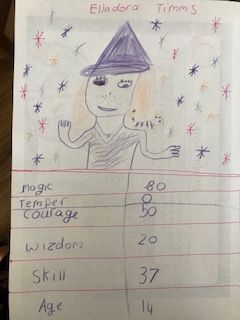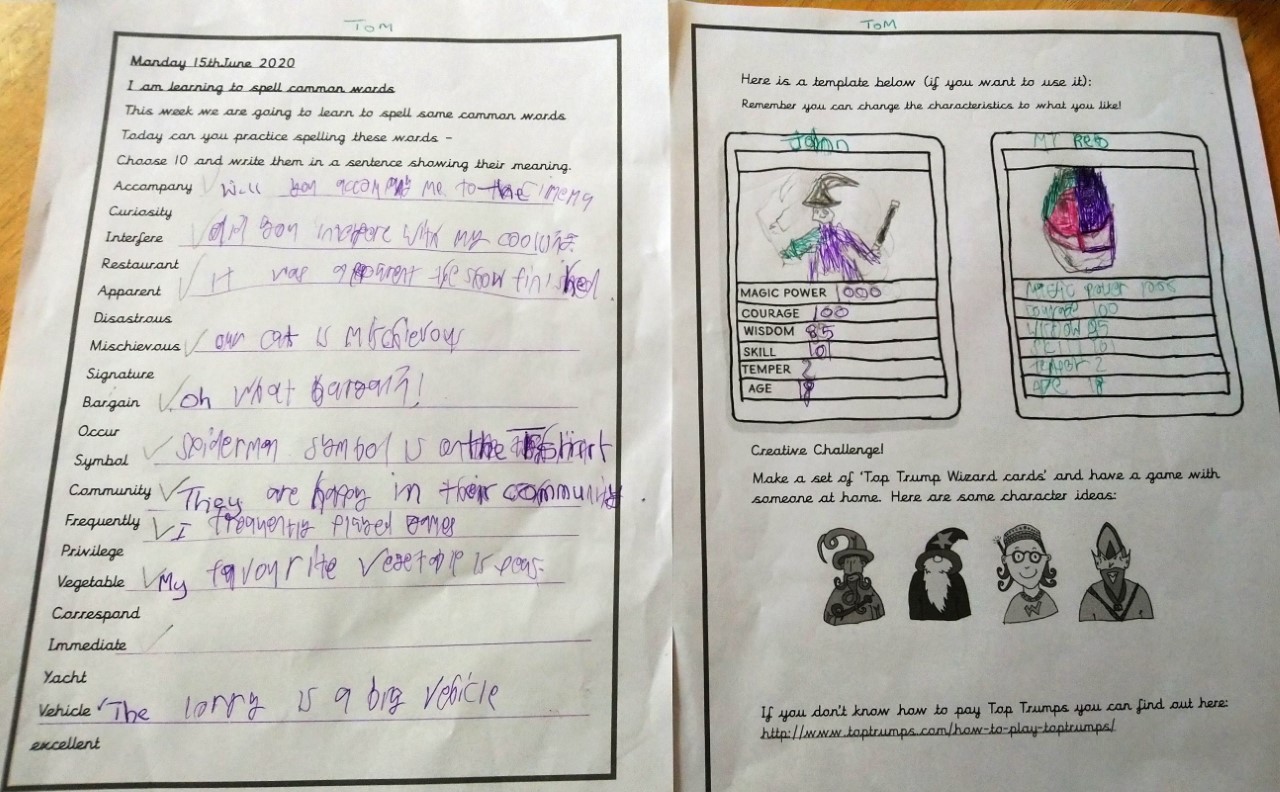 Freya.E has been completing some practical maths: More positive work from Jack - well done!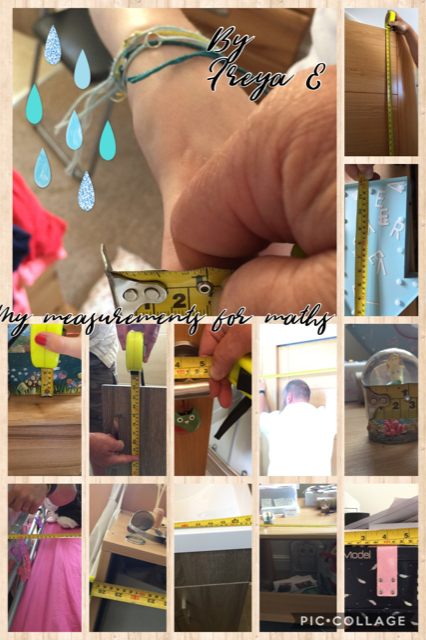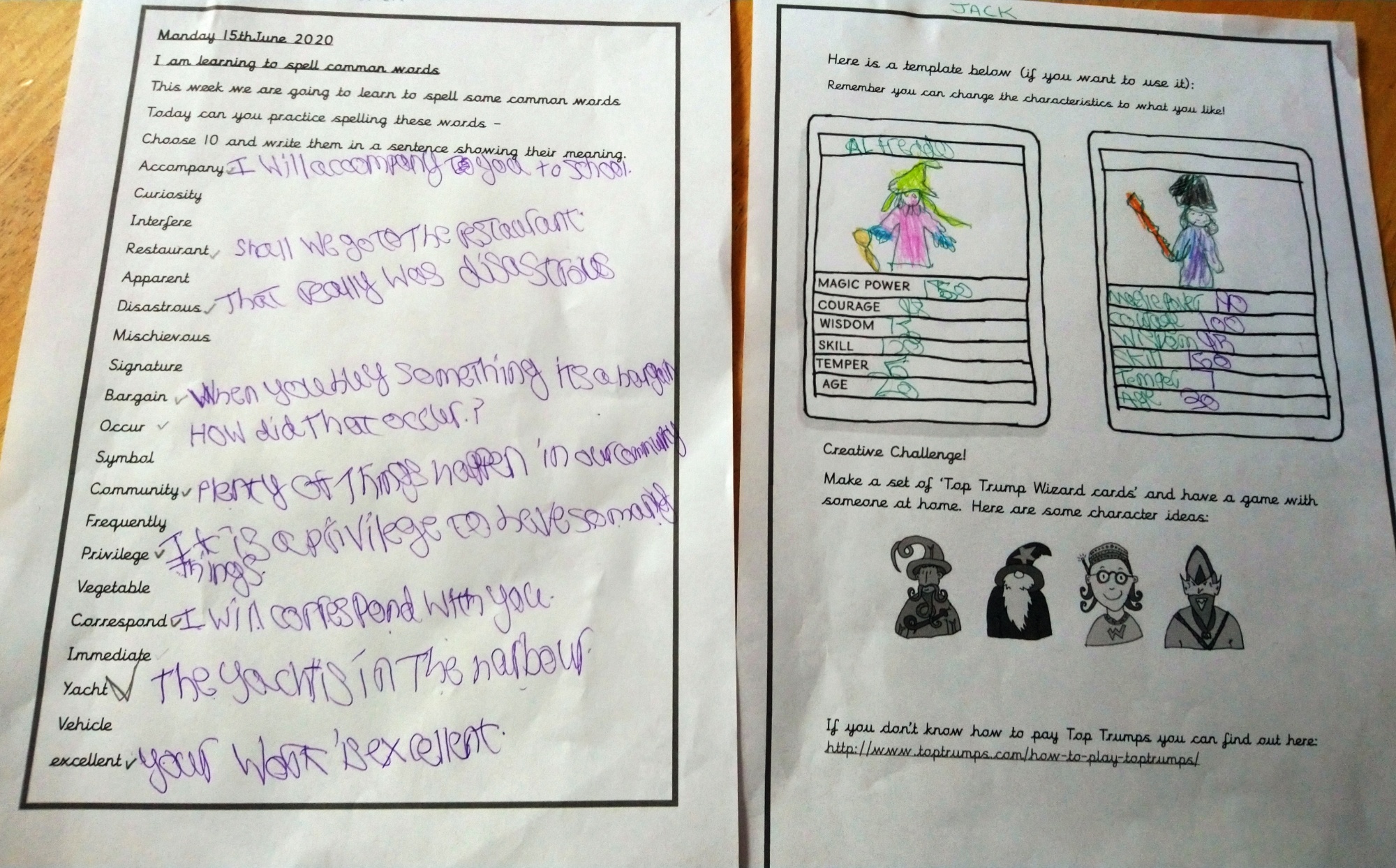 Finley has been busy working hard with his home learning: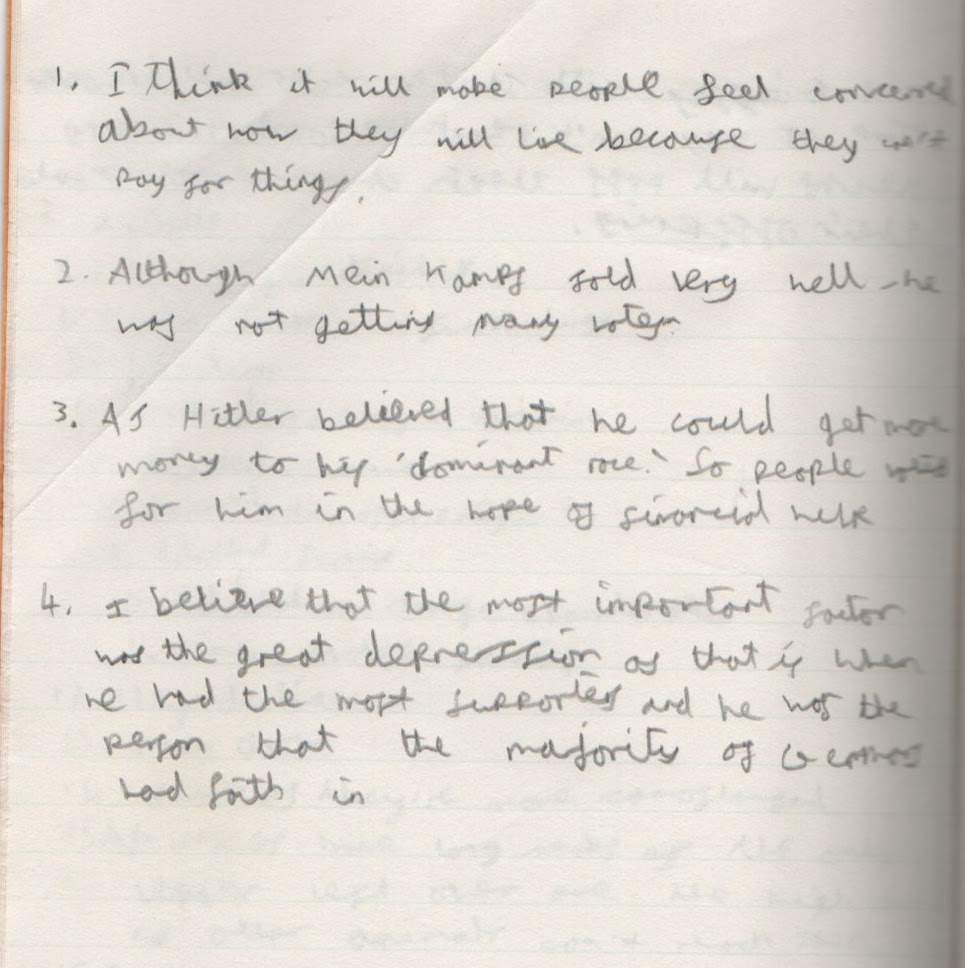 English - Look at the task attached. Read the text and use your reciprocal reading skills to answer the comprehension questions. After that, complete the 'Wizard' activity which will help you generate ideas ready for tomorrow's lesson.
Maths - Today will focus on you using your understanding of 'measuring' to answer a range of reasoning problems. Remember to read the statements carefully.
SPaG - Complete the activity set that links to practising spelling of common words.
MONDAY
Shout out!
Ashley, Will and Zac were super proud of their English work from last week - fantastic work boys and keep it up!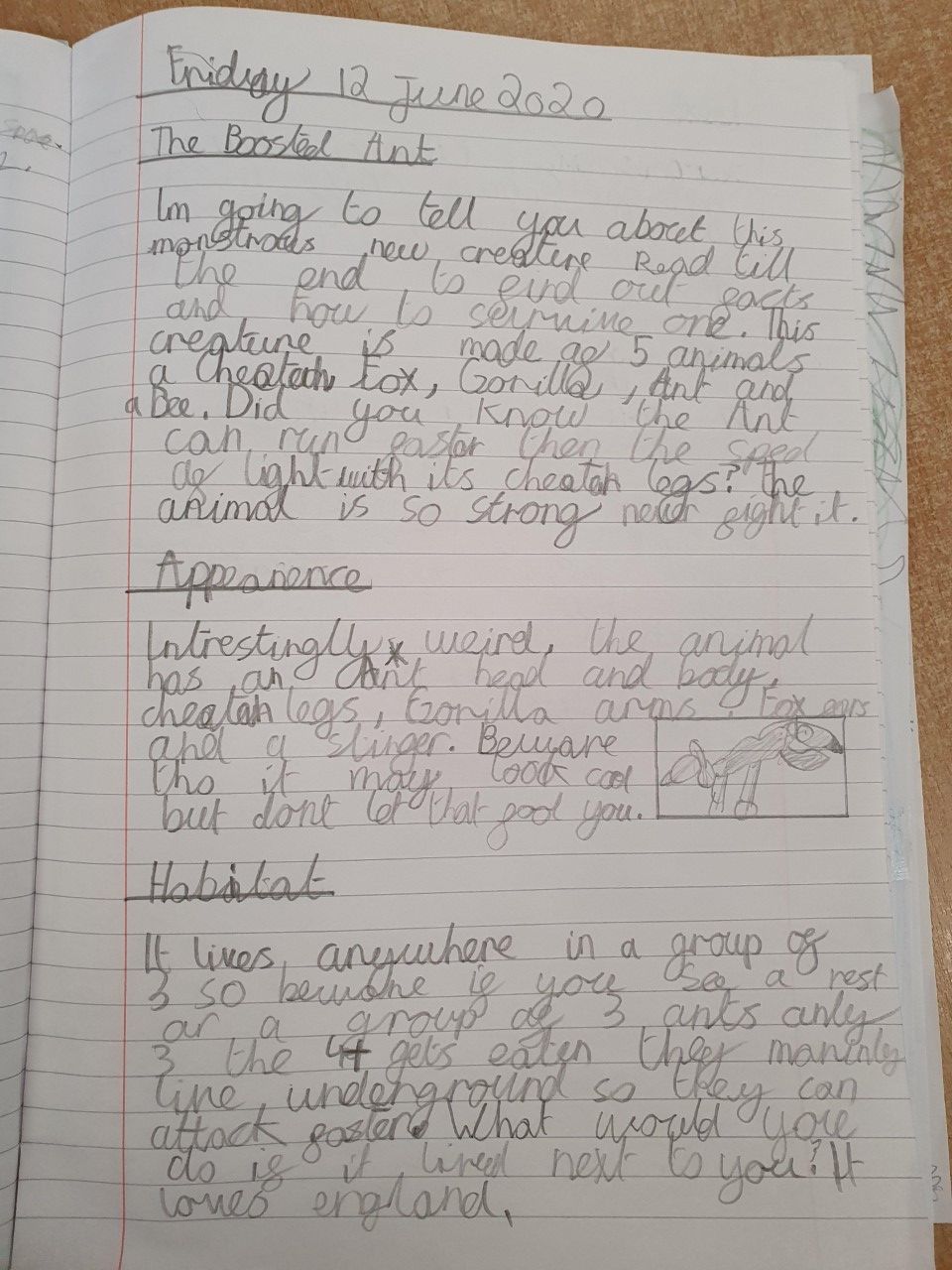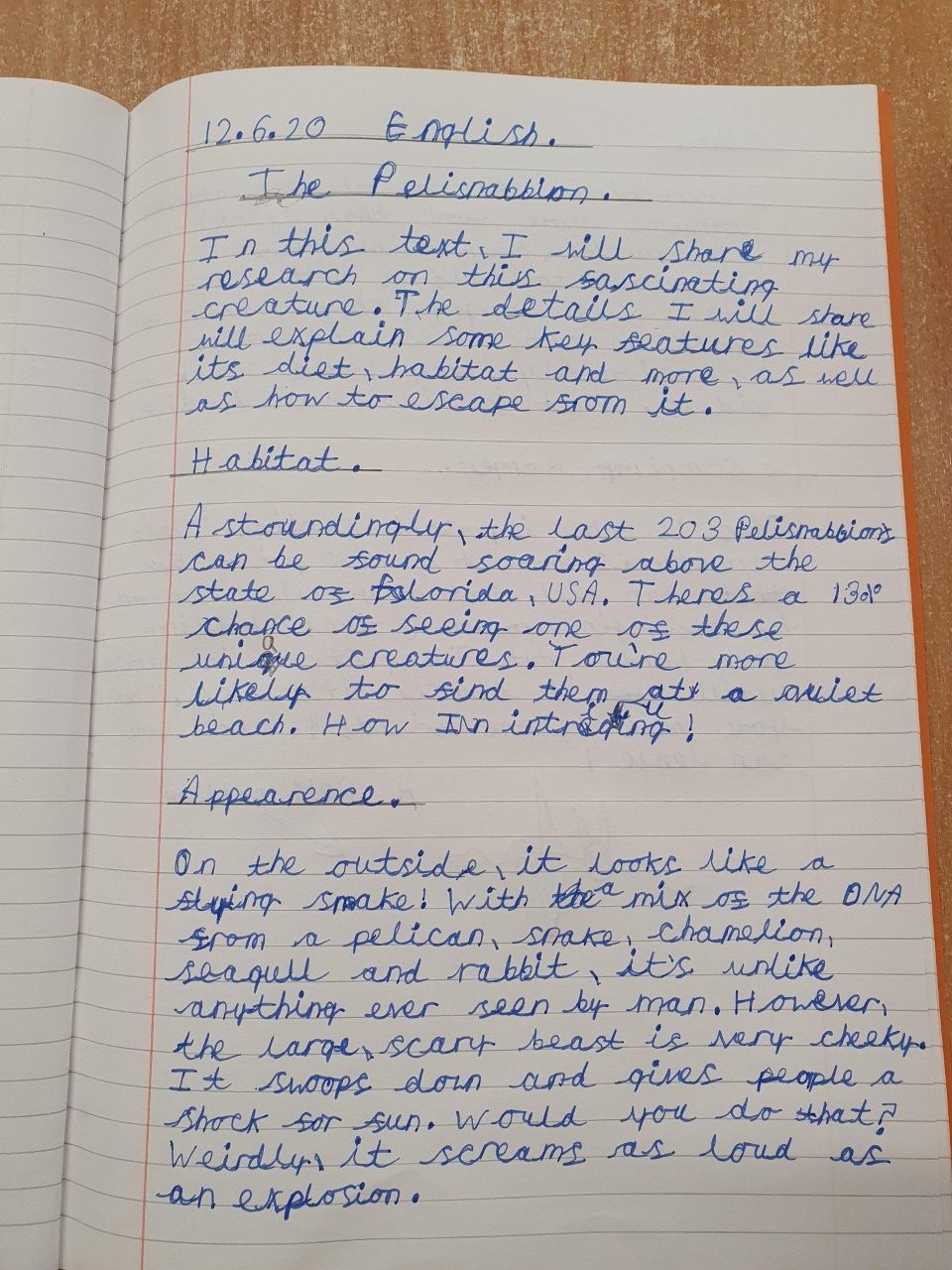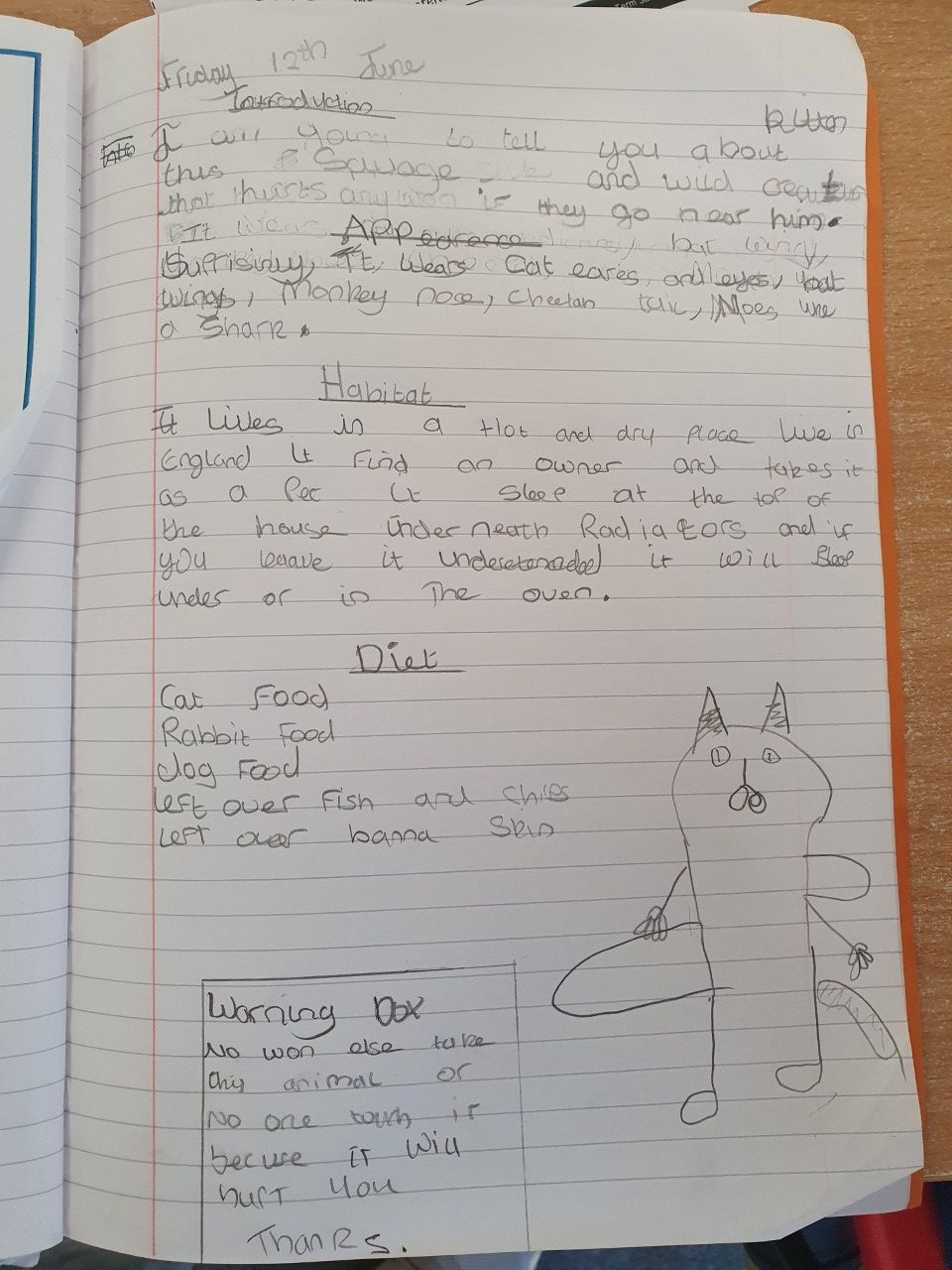 Evie.F completed a fantastic piece of English writing that demonstrated flow with impressive use of varied openers and conjunctions!
The White Parron: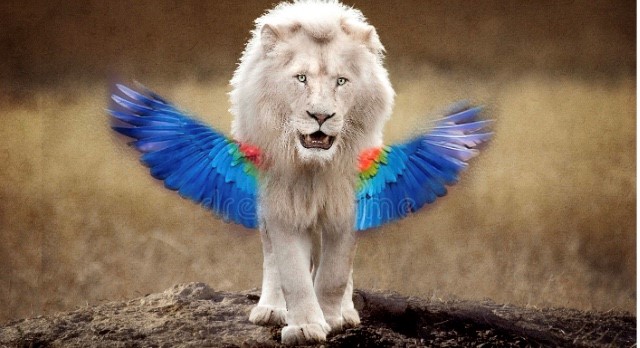 Tom and Jack continue to be working hard with their home learning, well done boys!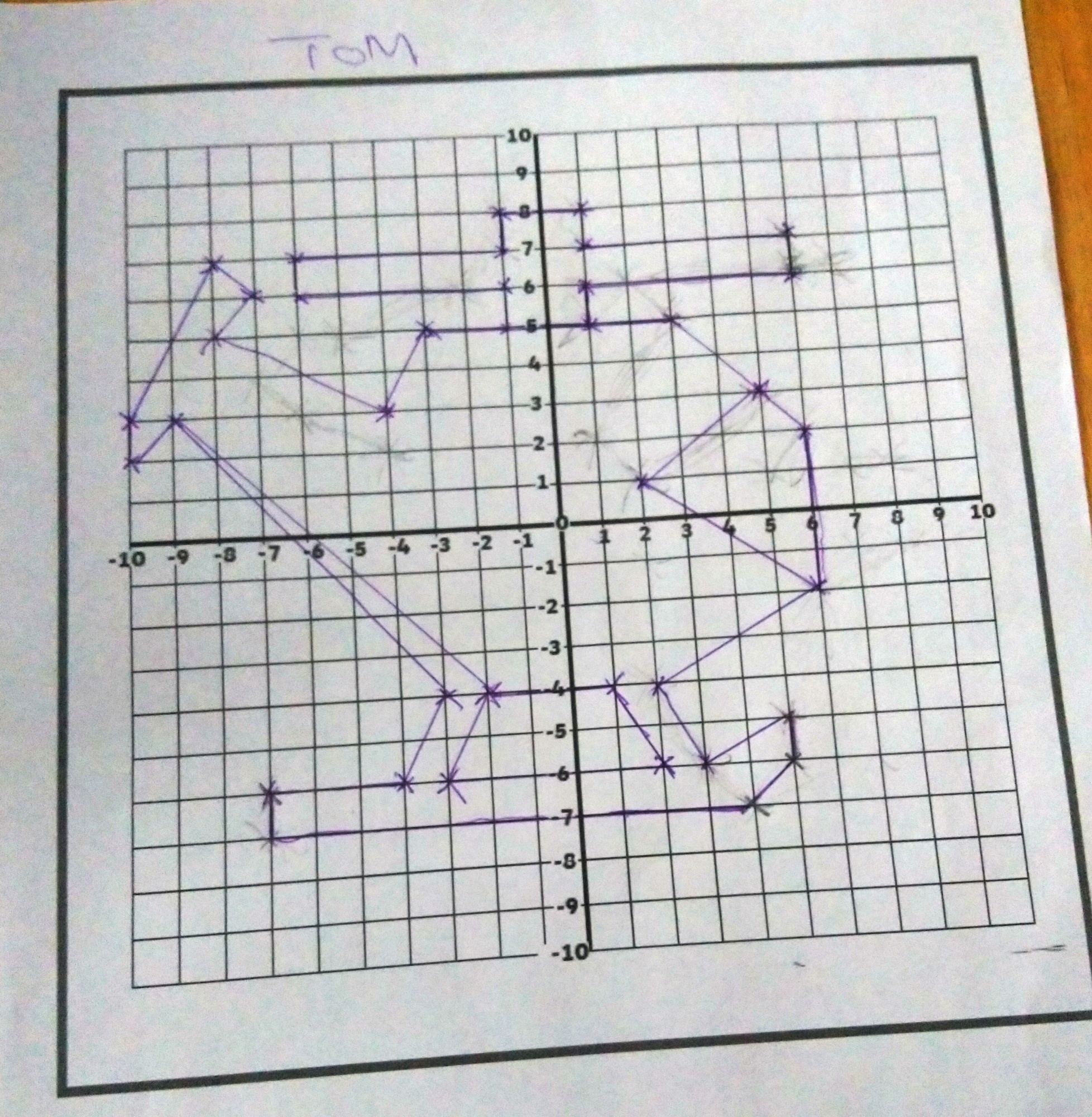 Harry has completed his reading comprehension brilliantly: Some great Maths work from Luke: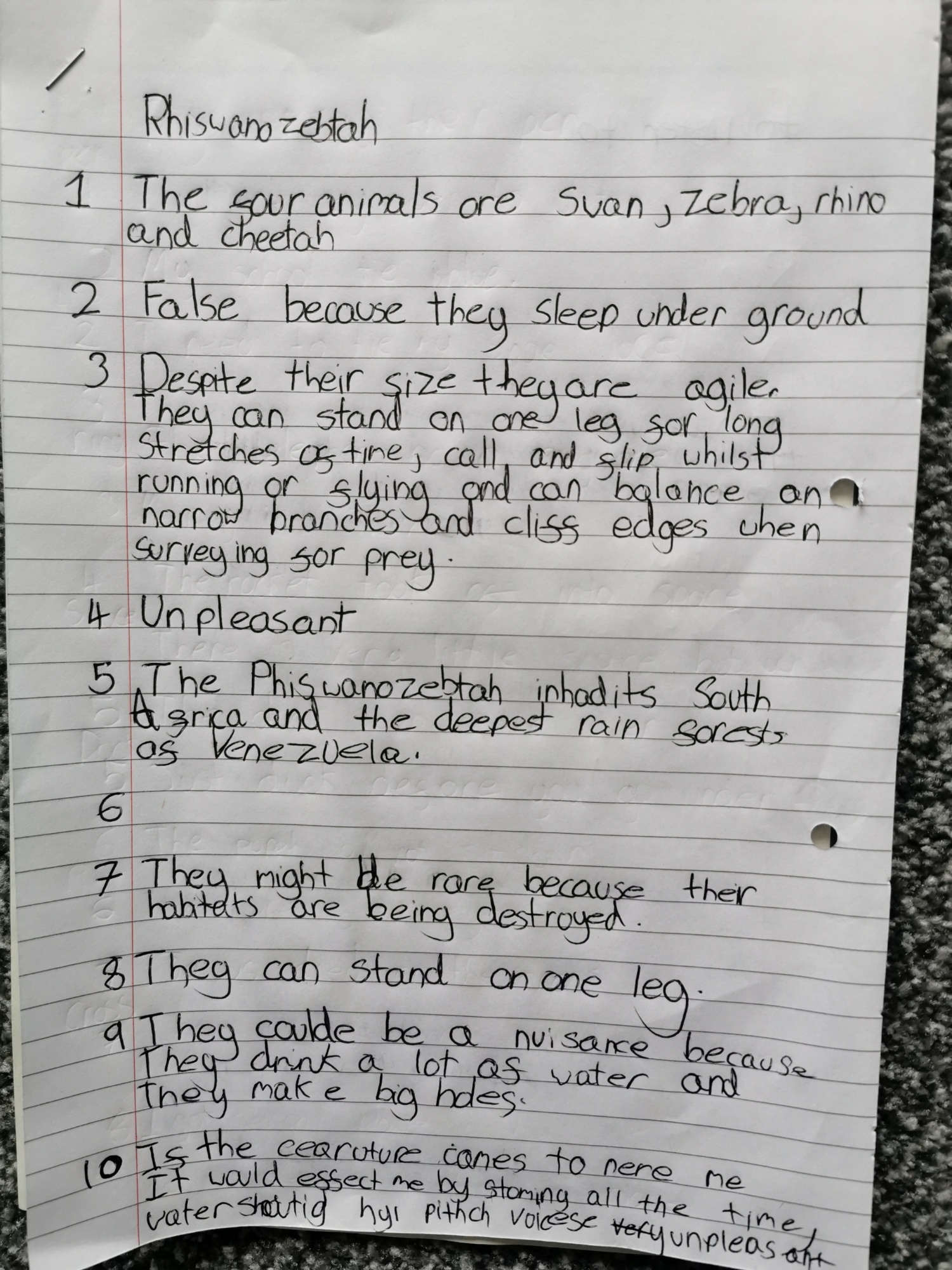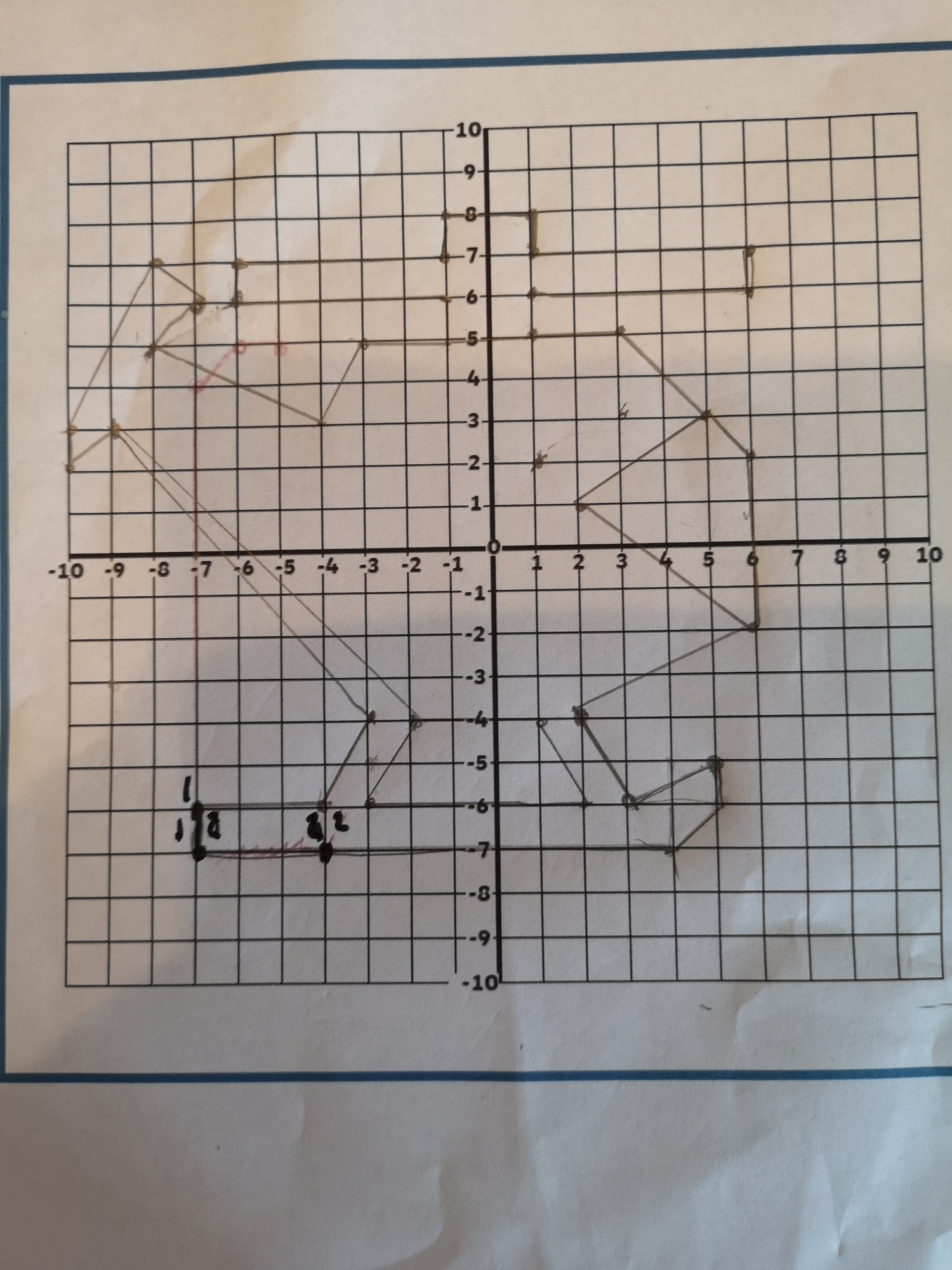 Finley has been challenging himself by completing 'Hot' Maths questions from the Y6 blog - great job!
Lovely to hear that Megan has been enjoying English - additionally, here is some well-presented Maths: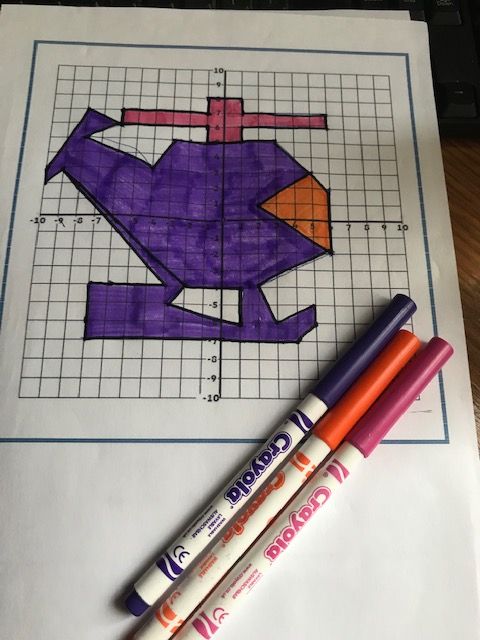 English - This week will focus on the theme 'Wonderful Wizards'. Let's start the week off being extra creative...look at the task attached which involves you exploring characteristics of a wizard and designing your own 'Top Trump Cards'.
Maths - Today will involve you being 'Measurement Detectives' and measuring to the nearest mm. See the activity attached which will require you to complete a range of measuring tasks around your house or garden (or in school).
SPaG - This week will focus on spelling common words. Look at the activity attached and practise the spellings - make sure you apply your understanding by writing the spelling in a sentence so it's used in the correct context.
THIS WEEK'S 'THRIVE' ACTIVITIES:
Thanet Inclusion Services offer activities that help to support young peoples mental health and well-being. Please see the activities attached and, if this helps, complete with your child at home.
VIKING ISOLATION GAMES!
#ChiltonHeroes,
Thank you for all of the pictures and videos that you have sent to me this week. The weather has been lovely for you to complete your challenges!
This week, can you complete your challenge in fancy dress? The crazier the better!
The Challenge is:
KS2
Can you balance a toilet roll on your head, lie on your back and get up again without dropping it?
Walk, Cycle or Run 1K or 5K (Choose one or two)
Good luck and I look forward to seeing more pictures and videos in fancy dress J! Please continue to send them to emma.knight@chitonprimary.co.uk
Miss Knight