W/B 5th October 2020 Weekly Year 5 Blog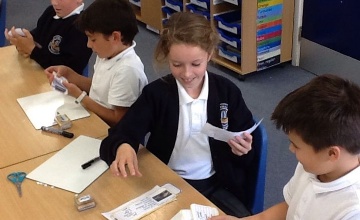 We are now well and truly half way through the term and the enthusiasm in Year 5 remains sky high! After many weeks learning about Shackleton, we now have a Year of expert Antarctic explorers!
Learning this week
In our English lessons, we made good use our 'Frozen Kingdom' knowledge and Shackleton's survival tactics to create our own Antarctica survival guide. With our Guided Reading, we used our detective skills to identify and clarify unknown words, summarised the events to date that had occurred in our different class stories and even turned actors as we imagined ourselves thrust deep into Antarctica (much like Shackleton and his men). Our Maths learning saw us tackling jumping numbers (quite literally) as we dove into multiplication and division by 10s, 100s and 1000s. Our afternoon work took us further into the 'Frozen Kingdom'. As we explored, we put on our scientist hats to learn more about the geography of the land and the animals that call it home. Studying a variety of animals that we encountered on the ice (such as mammals, birds and even amphibians), we compared their life cycles and reproductive strategies.
Learning next week
Next week, in English, we try our hand at journalism as we report live from 1916 where Shackleton and his men have just returned from the dead (landing in South Georgia after being missing for well over a year). We will even be creating our very own newspaper article. In topic, we will be performing a number of experiments to investigate changes in state of matter (solid, liquids and gases) and discovering which changes are reversible. Meanwhile, in Maths, we will be looking at bar modelling.