W/B 17th May 2021 Year 5 Blog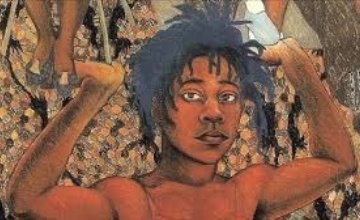 As week 5 of summer term comes to an end, we say goodbye to Sonia Boyce and Hello to Lady of Shalott!
English – This week in Year 5, we started to look at the 'Lady of Shalott' by Lord Tennyson. Continuing to take inspiration from the illustrations of Charles Keeping (who also illustrated the Highwayman) we described the setting in the poem and tried to answer the impossible question - who is the Lady of Shalott? Next week, we will finish the poem and discover the fate of the mysterious woman in the tower. Finding our inner romantic, we will be writing love letters to the dashing Sir Lancelot before reflecting on the Lady of Shalott's fate from beyond the grave.
Maths – Our learning this week has taken us into the treacherous world of fractions and decimals and, worse still, converting between the two. Using their prior knowledge, Year 5 made light work of this task (it was wonderful to see how much of their home learning had stuck!). Next week, we will be learning all about 2D and 3D shape and their different properties.
Topic- In our afternoon sessions, we continued with our studies of the inspirational Sonia Boyce. One of Sonia Boyce's most touching pieces was the creation of a machine that vended precious memories. Using this as our focus, we created our very own precious memory postcards, taking inspiration from both Chilton and home. We ended the week by constructing our very own vending machines filled with our most touching memories. Next week, we will return to our topic of 'It's good to be me.'
Home Learning - To be handed in on Tuesday 25th May 2021:
Home learning this week comes in the form of an exciting competition launched by the Royal Mail. On the form attached, please draw a picture of your hero/heroes of the coronavirus pandemic.
Official instructions:
Draw in the entire space (inside the straight-lined box only), a picture of the hero or heroes of the coronavirus pandemic that you would like to see on a stamp. Please use plenty of colour and try not to leave too much (if any) white space, especially around the edges. Do not include The Queen's head, or the 1st or 2nd class value symbols in your design. They will already be featured as you see them, outside the box. No entries can be returned.
Full terms and conditions are also attached.
P.S. – House points will be awarded for TTRS practise.
Have a wonderful weekend.
The Year 5 team x