W/B 28th June 2021 Year 5 Blog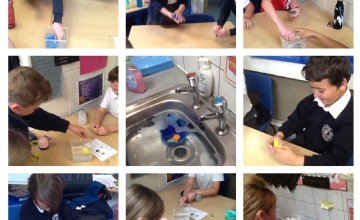 What a wonderful week we have had in Year 5 this week. On Thursday, the children met with their Year 6 teachers, who taught them for the morning.
In English, we have continued to read 'Street Child' and have been introduced to the villainous Grimy Nick and his dog, Snipe. We planned and wrote in role as Sir Robert Peel to Queen Victoria to encourage her to support the Industrial Revolution. We focused on including persuasive language and giving reasons and evidence for our points. Next week, we will be writing our own narratives were we tell the story of what happened to Jim Jarvis' sisters, Lizzie and Emily, after they were left with Rosie by Mrs Jarvis.
In Maths, we have been looking at finding missing sides and finding the perimeters of composite rectilinear shapes. We began the week by solving missing number problems which prepared us nicely for finding missing lengths. We took what we knew about oblongs and squares to help us calculate missing lengths, then used those missing length to find perimeters of shapes. Next week, we will be looking at money.
In the afternoons, we have spent time completing an experiment to see whether different shapes affected the amount od water resistance, we have looked at transferring information and how IP addresses work in computing and we have been on a fossil walk. Next week, we will be looking further into fossils and digital systems.
For Home Learning, we would like children to create a piece of art showing a fossil of their choice. This piece of art can be created in any way that the children would like to.
Important Dates:
Friday 9th July - Non-Uniform Day (voluntary donation to Chilton PTFA)
Tues 20th July - Yr 5/6 Sports Day 9:15am
Weds 21st July - School ends at 2pm
Have a great weekend (and come on England!)
The Year 5 team x