W/B 12th July 2021 Year 5 Blog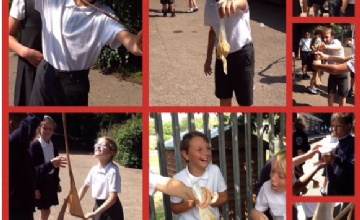 Our final full week has been packed with transition work, disgusting digestion activities and a look at one of the legacies of the Victorian era. With only a few days of the academic year remaining, remember, we've almost made it!
English – This week we researched Barnardo's, a British charity founded by Thomas John Barnardo in 1866 to care for vulnerable children, before creating an information text all about the wonderful charity. We also published our very own story which was inspired by our current text, "Street Child". Next week, we will be illustrating and publishing our work on Doctor Barnardo.
Maths – Our learning this week has seen us recap and revise the four operations (addition, subtraction, multiplication and division). We have been hunting for problems hidden in class and trying to solve them using all four skills. Next week, we will be using all the skills we have learnt over the year while playing a variety of Maths games.
Topic- In our afternoon sessions, we have been learning all about the human body and one of its most important systems – the digestive system. To bring our learning to life, we constructed our own version of the stomach and small intestines to actually digest some food. It was truly stomach-turning but we had a lot of fun along the way! If that was not enough, next week we'll be learning all about the circulatory system and the human heart.
Next week, we will have Sports day (letter attached with details), Year 6 leavers celebration and we will be having some fun activities in class as well as we gear up to celebrate a very successful year!
Home Learning -
Over the holidays, please do continue to regularly practise times tables (TTRS is a great way to do this) and encourage children to read daily (a routine can really help make this pain free, for example, 10 minutes before going to bed).
Before we disappear into the sunset, we want to say a huge thank you for all your support over the past year. It has been truly exceptional. Although the challenges of home learning seem long ago, the way we all rose to the challenge was wonderful to witness and that is down to the support you all gave at home. Thank you!
Finally, we leave you with these quotes:
For those dancing into the summer holidays – "Being happy never goes out of style."
For those feeling a bit blue – "Don't cry because it's over, smile because it happened."
To parents – "Tag… you're it!"
Have a wonderful weekend and, as this is the last post of this academic year, a delightful summer holiday.
Your heroes,
The Year 5 team x