Friday 24th September 2021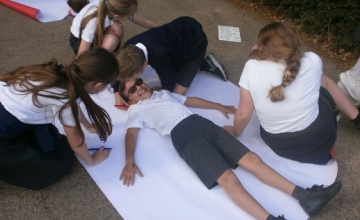 Well done for another amazing week! Here is what Year 5 have been doing this week:
English:
This week in English we have finished reading Ice Trap! We have summarised the book together and discussed the questions we have for the characters. We also continued to look at the book's setting, Antarctica, and continued to gather information and write our non-chronological reports! We have focussed on key skills such as writing accurate sentences and using formal language to improve our writing. Next week, we will move on to write our own newspaper reports about the events in Ice Trap!
Maths:
This week, we have been looking at Multiplication and Division, focussing on multiplying and dividing whole numbers and decimals by 10, 100 and 1000. At the end of the week, we also moved on to use this skill to convert units of measurement, such as centimetres to millimetres! Next week, we will continue to look at Multiplication and Division, but focussing on using different methods to multiply four-digit numbers by two-digit numbers.
Topic:
In topic this week, we have been researching the history of Antarctica. We created fact files about Ernest Shackleton, an Antarctic explorer, who our English text, Ice Trap, is about. We also created timelines on the history of Antarctica, plotting key dates such as 1773, when James Cook crossed the Antarctic circle. Next week, we will explore the key features of Antarctica and create our own top trump cards!
Home Learning:
We will be sending home new Love to Learn books, so for home learning this week, please could you decorate these. This can be in any way you would like!
Reminders:
Sports Project is on Wednesday. Please could children come to school in their school uniform and trainers.
Swimming is on Thursday. Children will need to wear their school uniform to school and bring swimming things in a bag. Children can bring a snack of fruit to eat when they return to school if they would like.
Team Cornflower will be returning to school for the normal time of 3:15, and Team Sapphire at the later time of 4:15
If you have any questions or need to contact us, please do not hesitate to email us (tom.abel@chiltonprimary.co.uk, alicia.hayzelden@chiltonprimary.co.uk and carol.isaac@chiltonprimary.co.uk).
Have a lovely weekend!
The Year 5 Team x