Friday 3rd December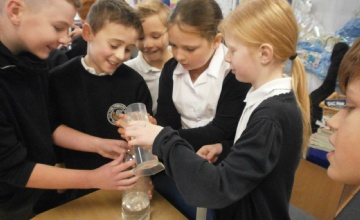 Year 5 have worked really hard this week – well done! Here is what we have been up to:
English
This week, we have continued to learn how to write persuasively and have focussed on using persuasive sentence starters to structure our writing. We have written a persuasive email to Professor Forster, explaining the strange things that have been happening to Jamie's phone, and a letter to Jamie's mum, persuading her not to divorce his dad, both from the viewpoint of Jamie Drake. We also created some fantastic artwork of the Fibonacci Sequence.
Next week, we will move on to write our own narratives using the book for inspiration.
Maths
In maths, we have continued our learning on measure exploring the difference between volume and capacity. We have completed lots of investigations to estimate and measure the capacity of different containers.
Next week, we will move on to use our learning on measure to solve problems.
Topic
This week we continued our learning on the Space Race, but focussed on the moon landing in 1969. We documented the key events of this in our books, focussing on who went, what happened and how long it took.
We then moved on to learn about the solar system and researched a planet of our choice. We learnt lots of interesting facts and used this to support our understanding of the solar system. Next week, we will continue our learning on this by creating a scale model of the solar system.
Home Learning
For this week's home learning, please could the children create a model of the solar system. This could be presented anyway, such as in a drawing or a junk model, using the facts that they have learnt about the solar system this week to help them.
Reminders
Sports Project is on Tuesday. Please could children come to school in their uniforms and trainers
PE is on Wednesday. Please can children come into school in their PE kits on this day.
Our Christmas Party will be in the afternoon on of Tuesday 14th December. Children will be able to wear party clothes to school on this day.
Friday 17th December is Christmas Jumper Day and the last day of term. We will finish school at 2 on this day.
If you have any questions or need to contact us, please do not hesitate to email us (tom.abel@chiltonprimary.co.uk, alicia.hayzelden@chiltonprimary.co.uk, carol.isaac@chiltonprimary.co.uk)
Have a lovely weekend!
The Year 5 Team x