Friday 18th March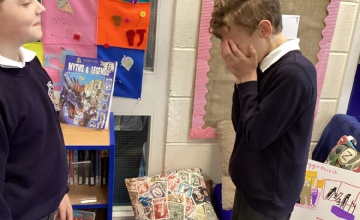 What another wonderful week in Year 5! Thanks to all the effort with Comic Relief outfits and thank you to the parents who took the time to come and look at the children's books.
English
In English this week, we have continued to read'The Adventures of Odysseus' encountering the alluring Sirens, the terrifying Scylla and the beautiful yet ferocious Charybdis, which we created some fantastic pieces of artwork showcasing. In our writing, we focused on emotive and informal language, performing a soliloquy as Odysseus after her learned that his mother was dead. We also completed a diary entry and letters between Odysseus and Penelope focusing on these skills. Next week, we will be completing our own Greek hero narratives.
Maths
In Maths this week, we have been looking at position and shape. We studied reflections and how to reflect different shapes as well as solve problems relating to this before moving on to translating shapes. Next week, we will be looking at angles, specifically identifying, measuring and drawing them.
Afternoons
We have continued our 'Gods and Mortals' topic in the afternoons this week, focusing on the DT unit of our Topic. We designed and made our own Ancient Greek themed automata toys using cardboard boxes, bamboo sticks and wooden CAMs. We even sawed the sticks ourselves!
Home Learning
For home learning this week, we would like the children to research a famous figure of Ancient Greece. They can then present their information in any creative way they choose. They could choose a God such as Zeus or Hades or a hero like Achilles or Perseus. Home Learning is due by Friday 25th March.
PE will continue to be on a Wednesday. Children should come to school in (weather appropriate) PE kit. Please can we ensure that children are in the correct PE kit (blue/black tracksuit and white t-shirt).

In Term 4, a bonus PE session will continue in place of Sports Project. Children should continue to come to school in normal school uniform and trainers on a Tuesday.

Please could children continue to read frequently and quiz on AR. Children should be reading at home a minimum of four times a week.

Next week is Parents Evening (Mon 21st, Tues 22nd). If you would like to make an appointment and haven't yet already, please contact your child's teacher.
Have a wonderful weekend!
The Year 5 team x