Friday 25th March 2022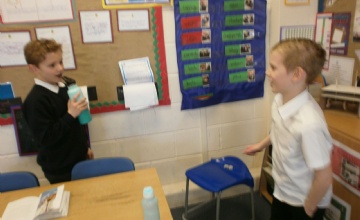 Well done to Year 5 for another fantastic week of learning! It was lovely to see so many parents at parents consultations and the book look last Friday. Here is what we have been up to this week:
English
In English this week we have continued reading 'The Adventures of Odysseus' and clarified tricky vocabulary, such as 'shrewdest' and 'wretched'. We then moved on to plan and begin writing our own Ancient Greek narratives, focussing on weaving description and dialogue to introduce our main characters. Next week, we will finish our narratives and focus on weaving action and dialogue as the story develops. We are looking forward to reading the final versions, as the children have worked so hard on these this week!
Maths
This week we have learned how to measure and draw angles accurately. We used protractors to help us, and most of us are now able to remember where to place the protractor to measure angles accurately. Later on in the week, we began to use our knowledge of angles to calculate missing angles across circles and straight lines.
Next week, we will be developing our confidence with multiplying by two-digit numbers and dividing numbers by a one-digit number using written methods. We will then move on to solve problems involving these.
Topic
We have been continuing our learning about Ancient Greece with some history and geography this week. We began the week by learning about the Battle of Marathon, before plotting states on a map of Greece. Then, to finish the week, we compared life in Sparta and Athens, and found that Athens had a democracy, but Sparta was run by an Oligarchy.
Next week, we will be finishing off our Topic with a Greek themed day! On Friday 1st April, children in Year 5 are invited into school dressed as Ancient Greeks, and will be participating in a range of Greek themed activities. They will also be having a Greek picnic.
Home Learning
A MyMaths task has been set on MyMaths on measuring angles accurately. Please could this be completed by Friday 1st April.
Notices
PE will continue to be on a Wednesday. Children should come to school in (weather appropriate) PE kit. Please can we ensure that children are in the correct PE kit (blue/black tracksuit and white t-shirt).

In Term 4, a bonus PE session will continue in place of Sports Project. Children should continue to come to school in normal school uniform and trainers on a Tuesday.

Please could children continue to read frequently and quiz on AR. Children should be reading at home a minimum of four times a week.