Friday 17th June 2022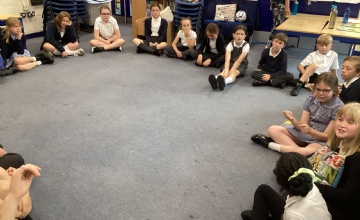 Year 5 have had another wonderful week. Thank you for all the bottle and white bag donations for the Summer Fair (Fri 24th June 3:15pm). Here's what we've been up to this week:
Maths
In Maths this week, we have been looking at properties of shapes, specifically angles. We recapped right angles, parallel lines and perpendicular lines before moving on to using known properties of angles and shapes to calculate missing angles. The children worked incredibly hard on what was a tricky topic! Next week, we will be looking at measurement of volume and capacity.
English
In English this week, we have written an online news report about Usain Bolt's 100m victory at London 2012, something AJ, the protagonist of our new class text 'Running on Empty', witnessed first hand. We read a number of online examples of the news reports about the race then planned and wrote our own. We also read the first chapter of 'Running on Empty' where we heard about AJ, his parents' learning difficulties and his grandfather's recent death. Next week, we will be writing our own poems.
Afternoons
In the afternoons this week, we have been studying our final RE unit of the term which focuses on local communities. We looked at the beliefs and mission statements of local religious and non-religious communities that the children were members of and compared them. We discussed how being part of a community makes us feel and why different communities are important to different people. Team Cornflower and Team Sapphire have also continued working on their French units.
Home learning
A MyMaths task on translations and reflections has been uploaded to be completed by Friday 24th June.
Spellings
Miss Isaac's group: oath, fleece, quest, prow, frail, harness, gloated, roaming, corpses, sprouted
Mr Abel/Miss Hayzelden's class: trial, Olympics, stadium, countryman, retained, doubters
Reminders
Sports Project is on a Wednesday. Please could children come to school in uniform with trainers on this day.

PE is on Friday. Please could children continue to come into school in the correct PE kit (navy/black hoody, plain white t shirt, navy/black shorts/tracksuit bottoms).

Please continue to read at home and test on AR. Children should be reading at least 4 times a week if possible.

Our School Summer Fayre is Friday 24th June at 3:15pm. Please come and visit our wonderful array of stalls and activities.

Details of class arrangements for 2022-23 have been sent out on this week's newsletter from Mrs Law.

As the weather is changing, please can children bring water bottles into school with water (not squash) to drink in class.
Have a lovely weekend,
The Year 5 Team x