Friday 1st July 2022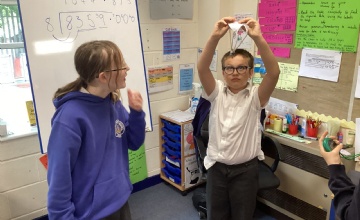 Year 5 have enjoyed another wonderful week in the sunshine! Here's what we've been up to:
English
In English this week, we have continued reading 'Running on Empty' and found about the chocolate trainer that Grandad ordered for AJ. We have been writing poetry focusing on language choices to set mood and tone and emotive language. We wrote one poem entitled 'Chilton Outdoors' and another entitled 'The Chocolate Trainer'. The children really shined with this task and wrote some beautiful, poignant pieces. Next week, we will continue to look at poetry.
Maths
In Maths this week, we have been studying imperial and metric forms of measurement and completed conversions between the two. We also refreshed our multiplication and division skills and learned how to use ratio to scale up and scale down. Next week, we will be solving problems involving money.
Afternoons
This week, we have combined our 'Healthy Relationships' focus with our 'Forces and Fairgrounds' topic. Firstly, we looked the importance of trust and kindness in healthy relationships and reflected on the healthy relationships in our lives and how to keep them healthy. We also discussed the importance of maintain healthy relationships online. We looked at toxic gaming, when the group chat turns mean and created leaflets giving children advice on what to do if they are targeted with unkindness online. In Topic, we completed our investigation into air resistance and found that the bigger the surface area, the more air resistance (so small parachutes are no good!). We then planned our next investigation into the effect of friction.
Home Learning
A two MyMaths tasks, one on Imperial Measures and one on Scaling, have been set due Friday 8th July 2022.
Information
Sports Project is on a Wednesday. Please could children come to school in uniform with trainers on this day.

PE is on a Friday. Please could children continue to come to school in the correct PE kit (navy/black hoody, plain white t-shirt, navy/black shorts/tracksuit bottoms).

Please continue to read at home and test on AR. Children should be reading at least 4 times a week if possible.

As weather is changing, please can children bring water bottles into school with water (not squash) to drink in class.
Have a lovely weekend,
The Year 5 Team