Weekly News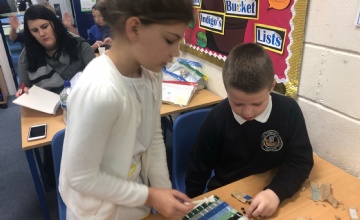 Reminders:
Internet Safety Week
PE every Wednesday afternoon. Please ensure children have the correct PE kit in school.
Year 5 children are expected to read for at least 10 minutes every day and hand in their reading record daily.
A few children have been bringing snack bars with nuts in. There are children with nut allergies so we would like to politely remind you not to bring these into school.
Ancient Greek Day:
Last week's Greek day was a real success, the children's costumes were fabulous and we all had a lovely day. The children tried different Greek foods (even though some foods were not to their tastes), made Greek mosaics and undertook some Greek dancing. See the attached photos.
Learning this week
In English we have been writing a setting description based on the Land of the Dead. The children started by imagining their idea of the Land of the Dead based on the Ancient Greek version and then they drew this as a landscape using a variety of mediums. Following this, the children wrote a setting description using a variety of language features to evoke the senses. Next week the children will be writing a diary entry about a monster attack.
In maths the children added and subtracted fractions and used their understanding of simplifying fractions to write their answers in the simplest form. Next week the children will review the four areas of number and convert between mixed to improper fractions.
In topic the children investigated different soil types. They started by identifying what the different soils are called and what how they might classify them, they then designed an investigation to test which soils would retain the most water and which would be the best to use for growing flowers. Next week the children will move on to investigating fabrics and which fabrics are the best for insulation.
Home Learning:
We would like the children to research how to take care of soil and how we can keep plant soil healthy. e.g. planting hedges and trees to shelter soil from the wind, ploughing to break up soil and put air in, feeding the soil with manure and fertilisers, etc. How can help improve the quality of soils?
People have often been very careless and have wasted huge areas of soil. Long ago, North Africa used to grow corn but the land was farmed so badly it became a desert.
The children can present this in any way they wish.