Weekly News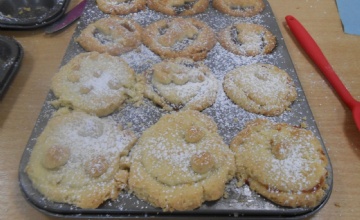 In Maths this week, we have been reading scales and thinking about where we see them in every day life. Scales are everywhere! We learned, when finding what the scale is, we need to find the difference between two given numbers and then divide that by the number of intervals. From this, we applied our learning to create yummy mince pies! We had to read the scales very carefully in order to get the right amount of each ingredient. Luckily, most of us enjoyed eating them afterwards.
In English, we have read more of Skellig and have written diary entries from differing perspectives, focussing on language choices to portray the characters' emotions and style of writing. We drew beautiful pictures of birds in the same way that Mina in the story would have. At the end of the week, we read and wrote Winter poems, personifying the season to help describe it.
For topic, we have been learning more about space. We are now able to tell each other extraordinary facts about our Universe including the life cycle of a star, like the Sun.
For Love to Learn this week, we would like you to apply your skills of using figurative language (personification, metaphors and similes) to write your own poem about a planet of your choice. For inspiration, think about the qualities of each planet that you have learnt (for example Jupiter is the King, a giant, a monster; Saturn is beautiful, elegant, with rings; Earth is life-giving, a home, fragile; Mars is red, rusty, desolate, cold) before thinking about what to compare it to. We look forward to reading them!