Weekly News 06.12.19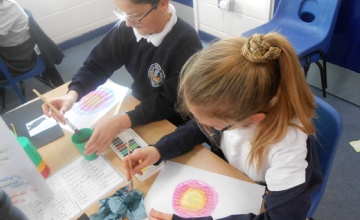 To support with generating language for our writing, we used watercolour paints to create an atmospheric scene based on the story of Skellig. We used black card to make silhouettes of an owl sitting in an attic that laid over the top of the paint. The effect was brilliant! We continued our writing of weaving in action but this week our focus was using dialogue.
In maths, we converted units of time to solve problems and used clocks to support our learning. Although this was challenging, we had great fun. Time can be a hard concept to grasp so we will look at this more later in the academic year.
The children presented to the rest of their class their Powerpoint slides about space. The children have been very enthusiastic about sharing space facts and asking lots of interesting questions.
For Love to Learn, please log on to www.mymaths.co.uk as there is a task for you to complete based on our learning this week.