Friday 25th September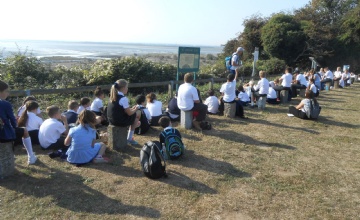 Welcome to this week's addition of the Year 6 blog!
Before we talk about next week, we need to tell you about what fun we had on our school trip this week! Our hike to Pegwell Bay took place on a beautiful day; we were very lucky with the weather! We learned from our tour guide (Mr McAuley) about how the coastline has changed and how this area of Thanet was the location of a very important Roman invasion. We learned about what was important to the Romans and how they were prolific warriors. They also loved their leisure time and we had great fun playing Roman games, such as skipping, leap frog and volley ball. This was the beginning lesson of our new topic entitled Traders and Raiders. We can't wait to learn more!
Next week in English, we will continue to delve deeper into our class text The Highwayman. We now know that the highwayman was killed but we will be discussing whether this was justified or not. We will be scrutinising the different characters in the poem and looking at different point of views of the same event. In Maths, we will be improving our knowledge of the relationship between positive and negative numbers. We will also look at how to read and write Roman numerals and also begin to recap how to add using different methods.
Home learning:
-there is no formal home learning task this week but please do continue to read and rehearse your times tables at home.
Messages:
-we are trying to keep the school well ventilated so we will be having the classroom windows open even if it is a bit chilly. Please make sure children bring their school jumpers with them.
-please remember that PE kit should be white t-shirt with black or navy blue bottoms (shorts or tracksuit bottoms)
We hope you have a lovely weekend!
From the Year 6 team (Mrs Bax, Miss Isaac, Miss Lane, Mr McAuley and Mr Wheeler)