Friday 6th November 2020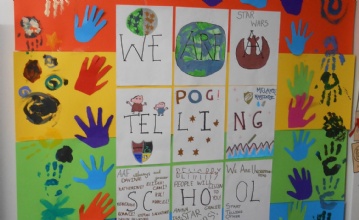 Year 6 have had a great week returning from the half term break. In English, we have started reading Floodland. We have focussed on the use of modal verbs (e.g. should, couldn't, shall, ought), by applying these to letter writing from different characters' perspectives and other text types. In Mathematics, we have been focussing on multiplication, using the formal written method to multiply up to three digits by two digits. We have found that children are far more confident with this if they know their times tables off by heart – please continue to encourage your child to practise their times tables and use TTRS regularly. For Values this term, we are looking at Kindness. We have been creating a piece of artwork that was developed using EVERYONE's ideas (see above). We discussed inclusion and the emphasis was on compromise. We ended the week looking at Healthy Relationships.
Next week, we will be continuing to read Floodland in English. We will be writing setting descriptions and writing as 'Zoe', the main character, as she reaches 'Eels Island'. In Maths, we shall continue to focus on multiplying before moving onto division. In values, we will continue with Healthy Relationships by looking at cyber bullying. We will discuss the differences between banter, teasing and bullying.
Home Learning
There is a Mymaths task set for you. Please speak to your class teacher if you are unsure of your log in.
SPaG - please follow the link to access BBC Bitesize - complete the activities on the Website.
https://www.bbc.co.uk/bitesize/articles/znd26v4
Messages:
With the colder weather here and the current necessity to maintain airflow in the classrooms, it is advisable that the children wear suitable clothing and multiple layers where possible.