Weekly Learning 09.07.21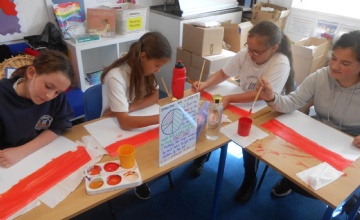 This week, we have been learning about the Blitz, which has fascinated us! This has linked well to our text, 'Goodnight Mr. Tom'. From this, we created some artwork and then wrote atmospheric descriptions of what life was like for ordinary people living through it. In Maths, we interpreted timetables and recapped our learning of the 4 operations.
Science has been fun this week as we filtered solids from liquids after finding which materials dissolved in water. Here, we were sure to have a fair test by keeping everything in our experiment constant yet changing just one thing (the solid to be dissolved). We found that sand did not dissolve in water then applied it to real life situations: of course - if sand dissolved in water then we wouldn't have beaches!
As we wind down towards the end of the year, we hope to do some fun activities with the children after a difficult year to celebrate the end of our Primary School career. As such, we hope to do a Chilton's Got Talent show next Friday, where children are welcome to showcase their skills. This may be telling some jokes, performing some magic, playing an instrument or singing a song... or something completely different!
Love to Learn this week is to prepare your routine. Again, this is completely voluntary but we would encourage you to be BRAVE. You may also like to perform in a small group, in which case you have time to practise. We look forward to watching your performance!