Weekly learning 17.09.2021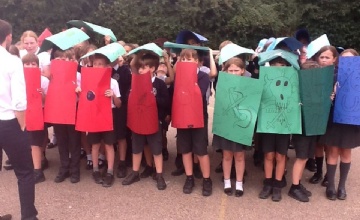 Term 1 Week 3
Reminders: Year 6 will now be taking part in their extra 30 minutes of sport on WEDNESDAYS. They will need to come to school in their trainers on this day from now on.
Year 6 will visit Pegwell Bay on Tuesday 21st September as part of our Topic Raiders and Traders. Children can bring a healthy snack to eat and they must bring water with them for the trip.
We would also like the children to bring in a small used/clean plastic bottle on Monday for them to use in their English lessons. These will be used for a display in class.
Chilton Heroes this week are: Lily, Nathan, and Kady-Mae.
Reading champions this week are: Ella, Ava-Sienna and James.
Learning this week and next...
This week the children have been revising their addition skills by solving problems. Next week the children will be refreshing their subtraction skills. We will be relating their place value skills to subtraction and identifying mathematical vocabulary to support their understanding. The children will also take part in practical maths lessons and when we can, work outside.
The children have, this week, finished their whole class text 'Way Home' and have spent time researching and understanding homelessness. The children finished this week completing their non-chronological report about homelessness and worked hard to include technical language whilst organising and punctuating their writing to a high standard.
Next week the children will explore a new whole class text called 'Floodland by Marcus Sedgewick. We will start the week using drama demonstrating their understanding of an event in the book. The children will then use emotive language and modal verbs in their written pieces. As a year group, the children will also explore the illustrations in the book.
In Topic this week, the children have learnt about the Romans and what life was like as a Roman soldier. As a year group, we designed our own Roman shields and then re-acted a Roman invasion using historical fighting techniques. Next week the children will visit Pegwell Bay to learn more about where the Romans landed. They will also be making an aqueduct and a Celtic roundhouse!
Please read our whole school letter about our Accelerated Reader program below.
Home learning - Due on Thursday 23rd September.
We would like the children to research the Romans in relation to our local area. Where did the Roman's settle? What evidence of Roman invasion can we still see today? Are there any Roman roads in Kent? Children can present their learning any way they wish. Please email any PowerPoints to your class teachers.
helen.rowland-hill@chiltonprimary.co.uk
david.wheeler@chiltonprimary.co.uk
amy.lane@chiltonprimary.co.uk
paula.bax@chiltonprimaryco.uk