Friday 15th October 2021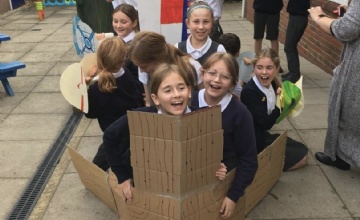 Important information
Next week (Thursday 21st October) Year 6 will be walking to the beach in Ramsgate as part of their exit lesson in Topic. The children will be spending the morning building Norman castles in the sand. The children can bring in their own bucket and spade if they wish. As we will be there all morning (returning to school for lunch) the children can bring in a snack / drink to have at the beach. They will also need a coat.
Accelerated Reader
Please remember that children must take an AR quiz within 24 hours of finishing their book. This quiz then informs us of their reading levels and if they need any further support or challenge. Children can quiz at home or at school. Click here to access our Accelerated Reading website https://www.chiltonprimary.co.uk/page/?title=Accelerated+Reader&pid=152
Home learning
We would like the children to research climate change in preparation for their English this week (see below). We would like them to focus on how climate change impacts us in England and the South East coastline. Deadline for this is Thursday 21st October. Children will be rewarded for their home learning and can present their learning anyway they wish (PPT, booklet, poster, video etc.)
English
This week Year 6 continued reading the book Floodland and spent a number of lessons writing action scenes. The children focused on powerful verbs and adverbs, fronted adverbials and some challenged themselves by weaving dialogue into their action.
Next week, the children will finish their class text and will take an Accelerated Reader quiz on it. They will also spend some time on researching climate change and how it impacts our country and coastline. They will use this information to write a non-chronological report.
Maths
In maths this week, the children spent time dividing using the bus stop method; showing their remainders as decimals. Next week we will continue with dividing, but the children will show their answers (quotients) with decimal reminders, remainders and remainders as fractions. The children will then move on to multi-step word problems using all four operations.
Topic
This week the children learnt about the Vikings. They spent time looking at primary and secondary sources and how the Vikings came to England. They then worked as a whole class to build their own Viking Long Ship! Next week the children will learn about the Normans. We will finish this term's topic with a trip to the beach (see the important information above).