Weekly Learning 04.02.22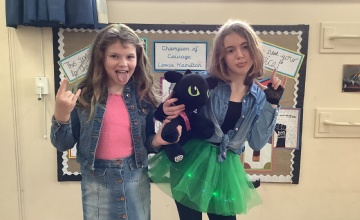 Messages
A reminder that the children will be visiting the Al-Birr Community Centre Mosque in Margate on Monday (Team Azure and half of Peacock) and Tuesday (Team Ultramarine and half of Team Peacock). The children will need to wear their school uniform and a sensible pair of shoes as they will be walking to the train stations. The children will be back to school for lunchtime and so school dinners and packed lunches will be as usual.
Children's Mental Health Week is taking place from 7th-13th February this year. Chilton will be supporting this by holding our very own 'Dress to Express' mental health awareness event. On the 11th February, we invite all the children to come to school expressing themselves, by wearing bright colours. We look forward to seeing their expressive outfits on the day.
The art competition's deadline is next Friday. The theme is Metamorphosis and the children can use any media they wish to create their artwork if they wish to enter.
We absolutely loved Number Day - after a fantastic Countdown assembly (well done Saxons), we read a book called Infinity and Me then discussed what Infinity meant. This week in English, the children had fun reading a variety of Caribbean tales and then wrote their own tales based on them. We also created some colourful Caribbean artwork from our stories.
In maths, we learnt about the relationship between decimals, percentages and fractions. We also found percentages of amounts.
To find 10%, divide the number by 10
To find 1%, divide the number by 100
Topic this week has been fun! In Science, we learnt about how animals have adapted over time to suit the environment. Next week, we will be linking this to Darwin's Theory of Evolution. On Monday next week, our Exit Point will involve a presentation about the birds in our area. Our guest speaker will also provide each pupil with a bird box that we will decorate. We hope to encourage more birds into our green areas!
In English next week, we will write a newspaper report based on the backlash that Darwin received upon publishing his controversial theory. We will focus on the features of a newspaper, including passive voice and direct/indirect speech.
In Maths, we will be continuing to find percentages of amounts before moving on to the four operations. This will involve practising strategies and solving problems.
Love to Learn
For our homework task this week, we would like the children to design (and make) their own bird boxes. Take into account which birds visit your gardens, the playground or other green spaces in our local areas and which birds we want to encourage. What colours will you choose? What size will your bird box be?