Weekly Learning 29/04/22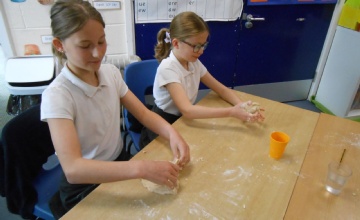 Please enter an introduction for your blog post here.
Home Learning:
>My Maths has been set for the year group.
Spellings to learn this week:
Persuade
Interfere
Exaggerate
Competition
Twelfth
Variety
Awkward
Category
Prejudice
Vehicle
This Week:
In maths this week, the children worked on finding the rule in number sequences. They later moved on to applying their understanding of Roman Numerals.
In English, the children finished their reading of 'Kensuke's Kingdom'. The children thoroughly enjoyed the text and have produced some beautiful outcomes from this adventure story. To complete their writing on this text they wrote a non-chronological report on palm oil.
In RE this week, the religion of Sikhism was studied. The children found out about the evolution of Sikh religion and about some traditions and practices of worship. In addition, they learnt how a child is welcomed into the Sikh community.
As part of a treat, the children also made pizzas!
Next Week
In maths next week, the children will revise their understanding of fractions, decimals and percentages. They will begin by converting between fractions, decimals and percentages. They will then move on to finding percentages of amounts. Towards the end of the week they will rehearse adding and subtracting & multiplying and dividing fractions.
In English the children will start to read 'The London Eye Mystery' by Siobhan Dowd. The children will learn about different London landmarks and write a persuasive piece on why someone should visit the city. Features such as exaggeration, emotive language, rhetorical questions and cohesive devices will be taught.
In Topic the children will start their new topic, 'Light it Up!' They will start by gathering their initial thoughts on the question, 'Is electricity our most important invention and why?' They will then explore circuits and how light travels how shadows are created. The children will research the history of electricity and how historical discoveries impact our daily lives today.