Week Ending 20th May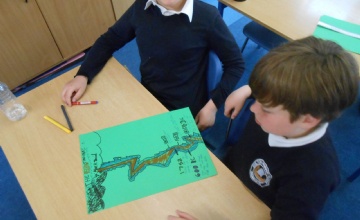 This Week:
In maths this week, the children consolidated their understanding of 2D and 3D shapes. They started by identifying the main properties of 2D shapes and drawing them from clues. On Wednesday they explored volume using manipulatives. Later in the week, the children named and labelled the properties of 2D shapes.
In English, the children undertook a range of different writing outcomes based on the text, 'The London Eye Mystery'.
In Science, the children created different circuits. They learnt the difference between a series and parallel circuit, labelled scientific symbols and identified when a circuit would or would not work. In addition to this, the children learnt about electrical safety in the household. Some children chose to create posters while others performed a safety advertisement.
Next Week:
In maths next week the children will be interpreting bar and line graphs. The mean, mode and range will be revised and later in the week, the children will have a chance to draw their own graphs.
In English the children will write a diary entry and then move on to plan and write their own narrative based on what they think happened to Salim. They will aim to use a range of punctuation, sentence types and build atmosphere and suspense through language choices.
Next week the children spend time preparing for the 'Be You. Be Here. Belong' parade.
The children will also have their exit point for 'Light it Up!'
Home Learning
We would like the children to bring in an empty cereal box please! They will need these for Thursday.
This week a 'My Maths' task has been set.
There is currently a TTRS competition. The children need to play as much as they can. There is a prize for first place. The competition closes 27th May.
A MYON book has also been set for the children to read. Two reading challenges have been set for Year 6 with a deadline of 26th May. The children can choose which book that read.
Year 6 Home Learning Electricity
Year 6 Home Learning The Shocking World of Electricity
Kent's BIG writing competition - Deadline 31st May Enter HERE - https://www.kmcharityteam.co.uk/kbwc/
Tell us about your heroes
The Kent and Medway Charity Team, in collaboration with KCC and the Reconnect Programme, is excited to give children and young people across Kent the opportunity to tell us about their heroes.
Over the past two years we have seen HEROES come in all shapes and sizes and we want you to tell us about your HERO! Your HERO could be your Mum, Dad, Brother, Sister or someone from your local community or even someone famous from where you live. They can be real or fictional and could even be a superhero – it's up to you! Your entry can be:
A short story
A poem
A short play
An essay
A comic
Or even a sound recording

It really is up to you. The ONLY thing you have to remember is that there needs to be a Hero at the centre of your entry but ALL entries MUST be a maximum of 500 words and completely your own individual and original work!

There will be three Kent Big Writing Challenge Champions selected from our district winners! All of our winners will be invited to an exclusive awards ceremony where they will be awarded:
A framed certificate
A celebratory book containing all the winning entries.
Overall Kent Champions will receive a specially designed glass trophy.
KCC will be funding a trip for the classes of the three overall winners.

*Other prizes will be confirmed at a later date.

Closing date: 31st May 2022

How to enter

The competition is open to ALL Kent children in the following three categories:
Category ONE – Key Stage 1 (ages 5 – 7)
Category TWO – Key Stage 2 (ages 7 – 11)
Category THREE – will combine Key Stages 3 and 4 (Ages 11 – 16)

We will select three winners in each of the following districts:
Ashford
Canterbury
Dartford
Dover
Folkestone and Hythe
Gravesham
Maidstone
Sevenoaks
Swale
Thanet
Tonbridge and Malling
Tunbridge Wells
Entries will only be accepted from students who attend schools in one of the Kent Districts mentioned above so we need you to give us the name of your school on the entry form or alternatively schools can submit entries for you.
If you are home schooled then you must select this on the drop down of schools and clearly give your full address and contact details on your entry.
You can either submit entries as electronic documents such as Word or PDF, as an audio file or post a paper copy. Contact us on 01227 475966 or charityteam@thekmgroup.co.uk should you require a pre-paid envelope for your entry.

For Schools

This initiative would be a great class activity for small groups or simply a writing task and schools are encouraged to enter on students' behalf to reduce the necessary verification checks that may need to take place. If you have a large class pack of entries, please complete the entry form under the teacher's name (just so that we know to expect them) and post the entries to us with the names clearly written on each entry.

For Parents

Any entry that is submitted from a parent as opposed to through a school will be subject to the schools verification that the entry is the student's own work. So please ensure that ALL submissions are the work of the child and that it is an original piece of work.

Templates

Some children might find it easier or even more fun to complete their stories on our templates. There is an option to print the form to post or scan or complete an editable PDF file that can be submitted on the entry form. An electronic version can be downloaded here and a printable version here.