Happy Half Term!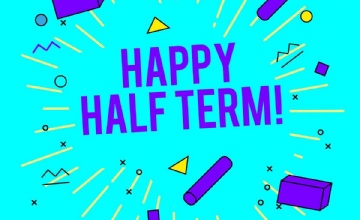 Wow! What an amazing first term of school for all the children in Reception. They have worked so hard and settled in beautifully!
In maths, we are beginning to explore 2D shapes and we are now discussing the properties of the shapes. We have been on a shape hunt in our classrooms, drawn giant shapes on the playground and have created our own shapes using lolly sticks and string. As you are walking or driving around this week, please have your own shape hunt and tell us which ones you spotted.
In RWI we have been practising oral blending when in class and during other times of the day. Please practise this with your child during the holiday and turn it into a fun game! For example, 'Touch your h-a-t.' 'J-u-m-p up!'
It has been lovely to give the children opportunities to discuss their families and some of their favourite things through our 'All About Me' topic. They have also enjoyed the rest of our farm topic; this week, they have made some paintings of tractors using the shape stamps and have collaborated to create out giant farmhouse! Please remember to check in your new Love to Learn books to see your exciting Home Learning activity.
We hope you have a wonderful half term, with lots of rest and time spent together. Thank you for all of your support this term.
The Reception Team!
Please enter some content for your blog post here.