Weekly News 13.3.20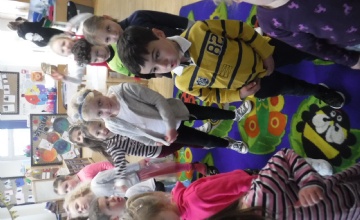 This week Reception have continued to learn about Space. We have read the story 'How to Catch a Star' by Oliver Jeffers. Ask me what happens in the story! The story is about a little boy with a big wish. Then we thought about what we wish for. We drew a picture of our wish and wrote our sentence. Some of wishes included owning a horse, owning a zoo, having a pet dinosaur, catching a moon and having a baby sibling! We also drew stars and planets on the ground using chalk, made space pictures out of lollipop sticks, glitter, sand and sequins, and practised our handwriting by writing some space related vocabulary.
In Maths we practised adding two numbers together on a number line. We put our finger on the first number and moved our finger up the number line by the amount stated in the number sentence. We are becoming increasingly independent during our maths activities! We have also started learning how to group objects into groups of 2, 3 and 4. We have practised this practically using counters and then we moved onto circling objects pictorially - each time labelling the groups e.g. 3 groups of 2.
On Friday it was Sport Relief and we dressed up in our sporty/dance clothes. We participated in the school dance-a-thon where we had to dance for 20 whole minutes! We had so much fun. In our PE lesson we also practised our dancing - moving our body in different ways to different styles of music. Thank you for your kind donations towards Sport Relief.
Unfortunately we have cancelled our Space Show on 24.3.20 as we are taking precautionary measure due to current circumstances. Sorry for any inconvenience caused.
Have a lovely weekend,
The Foundation Stage Team.