Friday 20th May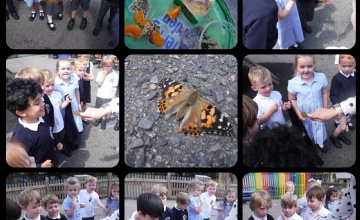 This week we were finally able to let our butterflies fly free. We have loved watching them grow and transform. The children were so excited to watch them fly away!
English
In phonics this week, we continue to learn our set 1 and 2 sounds. We are confidently reading and writing words containing these sounds. We are now focusing on four and five sound words, such as crab and tent. We are also working hard on our writing. We are beginning to write a series of simple sentences trying to remember our capital letters, finger spaces, full stops and neat handwriting. We are beginning to do this with increasing independence. Our focus text this week, was 'Wangari's tree of peace'. We loved the story and enjoyed learning about the country of Kenya.
Maths
In maths this week, we have been measuring the mass and length of objects using 'non-standard units of measure'. When doing this we used cubes to measure how long or how heavy different objects were. We then used words such as heavy, light, heaviest, lightest, longer, and smaller to compare these objects.
Topic
In Topic this week, we continued with our Topic on Growth through the book Wangari's Tree of Peace. Through this book we explored the importance of trees and what they give us. We spent time in our forest area learning about the different kinds of trees and their leaves; creating observational drawings.
Next week
Next week, we will be learning about how seeds grow and change using the book 'A Sleepy Seed'. In maths, we will be covering the comparison of quantities.
Reminders:
On Friday 27th May, we have our Be you, be here, belong parade on the school field. This will begin at 2.15. We can't wait to see you!
The school are taking part in the 'Cummings Sandwich Art Competition'. Please see the file attached for details.
Friday 27th May is the last day of term 5. Children will return to school on Tuesday 7th June at normal time.