Reception News -Term 3 Week 3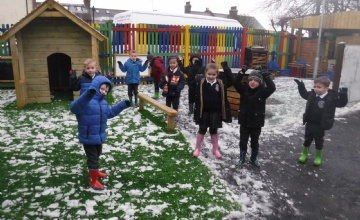 This week we had the excitement of snow if our playground. The children loved playing in the snow and exploring how they could make it melt.
In Maths this week, we have been learning to add. We can now read an addition number sentence and can find the answer by counting on from the largest number. This is something that the children can find a challenge but they have shown some amazing focus and progress. We are very proud.
In English, we have been learning about the story of Little Red Riding Hood. We have worked on re-telling the story and sequencing events of the story. We also explored how we might feel walking through a forest.
In creative development, we have enjoyed using collage materials to make a collage of a forest. We explored different textures of real leaves and trees before creating our own textures.
In understanding the world, we have been baking biscuits. We discussed what happens when we mix ingredients together and how the ingredients change. We loved eating our biscuits.
Messages - Please ensure your child has a pair of wellies in school. We enjoy spending time in the muddy forest area.