Weekly blog 29/11/19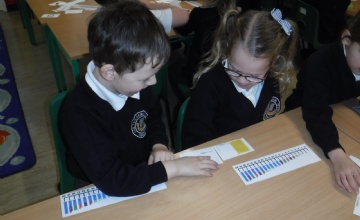 Maths: This week we have been adding and subtracting length. When adding we used number lines; finding the biggest number and counting on the smallest to find the total. We also used number lines when subtracting.
Topic: This week we have been thinking about Winter. We read the story the 'Little White Owl'. We used the story to inspire our writing for the week. We created beautiful owls using glitter. We've had a lovely week.
Love to learn: Next week we are learning about seasons. Create a piece of artwork depicting your favourite season of the year. You can be as creative as you wish and use whichever materials you like.
Reminders: You should all have your Nativity scripts at home. We would really appreciate it of you could practise your child's lines with them at home.
Other upcoming dates:
Thursday 5th December: Christmas Come Dine with me for year 1 and 2 children (those who do not have siblings in school)
Tuesday 10th December: Year 1 Nativity performance in hall at 9.15.
Friday 13th December: Christmas Come Dine with me for all children who have siblings in school. Christmas Fayre 3.30-5.00pm in school hall.
Tuesday 17th December: KS1 Christmas Party - non school uniform
Wednesday 18th December: Christmas jumper day and school Christmas lunch for pupils and staff. This is the last day of term and school will finish at 2pm.