Weekly News - 17.01.20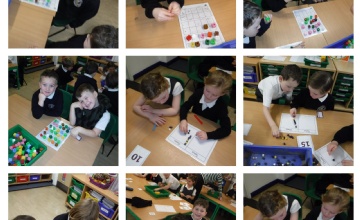 We hope you have all had a lovely start to the New Year. The children have settled back quickly into school life and we have had another wonderful week.
Maths
This week in maths we have been looking at number and place value. Wee started the week by learning to group objects into 10. We then used dienes blocks to explore how many groups of 10 given numbers have. For example, 15 has 1 group of ten and 5 1's and 20 has 2 groups of 10 and no ones. The children learning to represent this using apparatus and by drawing sketches.
Topic
This week in topic we have had R.E week. We have been learning all about special books. The children initial thought about what books they have at home that are special to them. We then learnt what a Holy Book was and why they are so important to some people. We then looked at the names of different Holy books and which religions they belong to.
Next week we will be starting our Topic 'How are you?'. In this topic, we will be learning about keeping healthy and eating the right foods. We will learn about the importance of exercise and what germs are and how we can be hygienic. We will learn about the doctors that discovered medicines and illnesses from the past. We will also learn about countries that do not have enough water.
In maths, we are moving back to addition addition and subtraction. We will look at using a number line and a hundred square to add and subtract, as well as mental methods we can use.
Please see last weeks blog for you love to learn task. This is due on Wednesday 22nd January.
Important dates:
Thursday 23rd January: KS1 Grand parents Come DIne with Me.
Monday 27th January: Please can all pupils come to school in their brightest exercise clothes for our 'Clubercise session'. This is the entry point to our topic.
Friday 7th February: School Disco after school
Friday 14th December: Last day of term