Weekly News 08.02.20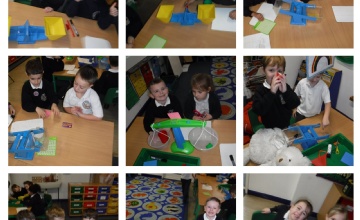 Happy Friday everyone! We have really enjoyed Number Day. Thank you so much for all the wonderful outfits the children wore. They all looked fabulous. We spent the morning designing our own board games. We were then paired with a member of Team Sky and played our board game with them. Thank you for all your donations. The NSPCC is certainly a worthy cause.
In maths this week, we have been learning about mass. We used the scales to weigh, compare and order objects. We used key words such as heavy, light, heavier, lighter, heaviest and lightest. We then used cubes and the scales to weigh objects. By the end of the week we were weighing objects and adding together how much 2 objects weighed.
Next week, we will be adding and subtracting in different contexts.
In topic this week, we have looked at what we need to survive (food, air and water). Next week, we will be learning about the importance of medicine. We will learn about Mary Seacole and Alexander Flemming.
This week, team Periwinkle had their first reading session with team Peacock. Together we shared our favourite stories and got to know each other a little better. We are hoping to spend more time reading with some of the older children to encourage a love for reading and books.
For your Love to Learn task this week, we would like you to get your child to help weigh out some ingredients when you're cooking dinner/baking a cake. Show them how to use the scales and words such as heavy and light.
We hope you all have a wonderful weekend!