Weekly News! w/b 11.10.21
This week in Team Indigo and Team Royal we have been learning…
Read, Write Inc.
This week we have been working incredibly hard on our sounds, spellings and writing! We have loved receiving our new mini certificates after every lesson. Keep working hard Year 1 and hopefully we can all have one by the end of term!
Maths
This week in Maths we have been looking at subtraction! We used jumping back on a number line and found missing numbers from number sentences!
Topic
This week was our last week of our topic! We focused on Geographical features and read the story of the Jolly Postman. We wrote a letter back to Goldilocks as baby bear and made some fantastic maps of the school! We then had a surprise visit from Miss Dudley-Smith's sister who is a paramedic, and finished off the week by pretending we were bakers and designing our own cupcakes.
Love to Learn
This week we would love for you practise your subtraction and show your workings out! This could be with resources you have around your house or on a number line! Here are some questions for you…. (Not due in until Tuesday 2nd November)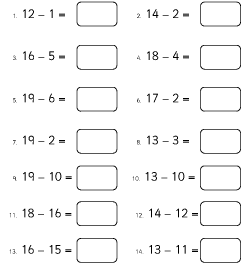 Reminders…
PE is on Monday – Please remember kit.
Please remember to tie hair back.
The Sports Project is on Tuesdays – Normal uniform, with trainers.
22nd Oct - non uniform day for Chilton Fundraisers
11th November - children can wear service uniforms for armistice day
15th November - odd socks day for anti-bullying week
19th November - pyjama day for Children in Need
Enjoy your weekend Team Indigo and Team Royal
We look forward to seeing you all on Monday!
Mrs Winchcombe and Mr Allen