Weekly News! w/b 17.1.22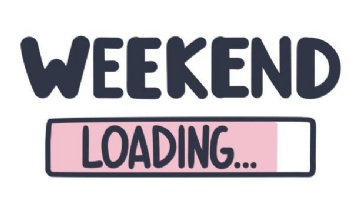 Wow! What a week we have had in year 1!
This week in Team Indigo and Team Royal we have been learning…
Read, Write Inc.
This week we have been working so hard on our writing! We have been making sure we use full stops and capital letters. Some of us are even using adjectives now.
Please feel free to bring in any independent writing from home. We would love to share it with the class and celebrate your hard work. Keep it up year 1!
Maths
This week in Maths we have been working on counting on and back, on a number line. We were challenged to some questions that looked like this! What is 2 less than 7? What is 4 less than 5? We know that these are tricky questions and that we have to think carefully about the order of numbers.
We then moved our learning on by looking at the 'Inverse' i.e. 5 + 5 = and 10 - 5= are very similar! We showed this in a part, part whole model, which made it easy for us to see! Take a look at our wonderful learning!

Topic
This week we kick-started our new topic off, 'I care about me!' by taking part in a fitness class! We all had a fabulous time in the hall and burnt some energy! We then answered some big questions we had to think carefully about; Are you healthy if you only eat vegetables? Do you have to be fit to touch your toes? And do you have to touch someone to pass on germs? We had some wonderful discussions about these questions.
Towards the end of the week we focussed on art. We learnt all about the famous artist 'Arcimboldo' who was an Italian painter best known for creating imaginative portrait heads made entirely of objects such as fruits, vegetables, flowers, fish and books. We had great fun creating our learning partners faces, out of real foods, and then chose our own foods to create our own portraits, with mirrors too!
We then described some of his paintings and discussed what we loved, liked and disliked about them. Take a look at our wonderful art work.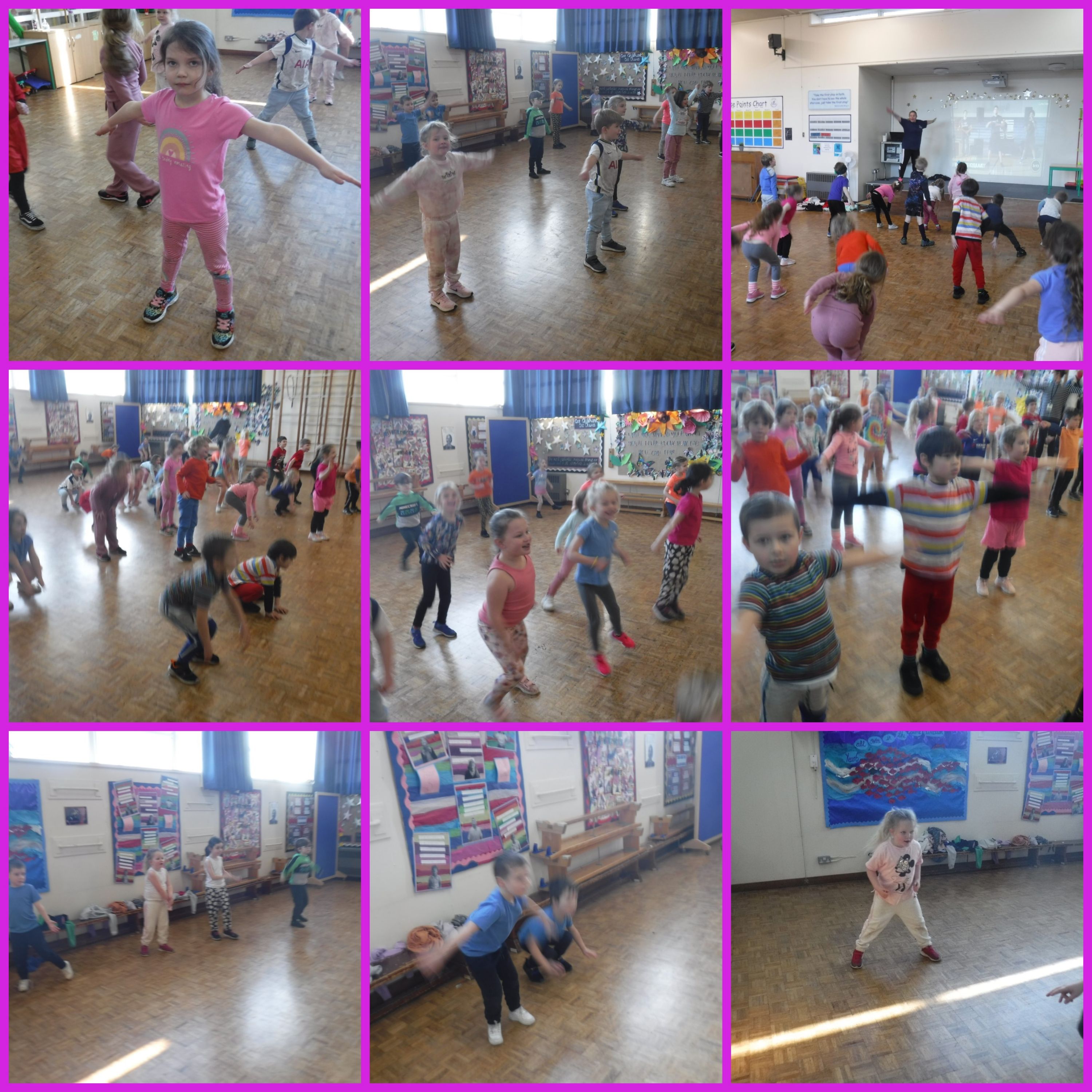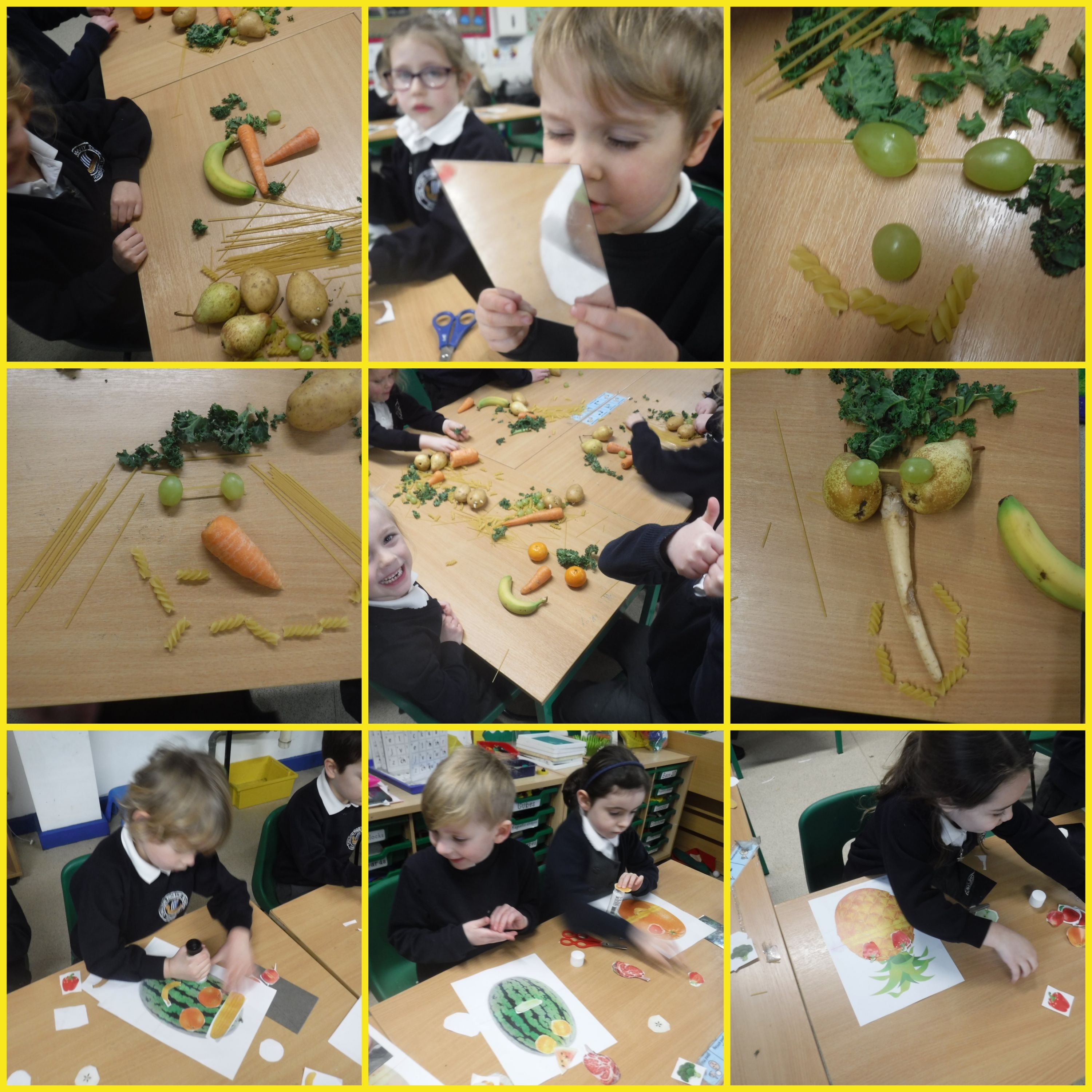 Next week
In maths, we will be learning to solve one-step word problems using the part whole or adding/subtracting on concept.
In RWI, we will be continuing to practise our sounds, use punctuation, practise our writing and learn the red words 'two, small and love.'
In Topic, we will be learning about Edward Jenner and his impact on the development of medicines. We will be learning about the Plague! AND We will be conducting some exciting germ experiments and looking at our heart rates!
Love 2 Learn
This week we would love for you to practice your letter and number formation. We will send home a sheet for you to complete. You can either stick this in to your love 2 learn book OR show us your own beautiful letter and number formation practice without the template sheet.
Love to Learn books need to be returned each Wednesday please.
Book fair
From Monday 24th January - Thursday 27th January, we will be welcoming the Book Fair back to Chilton Primary School. The Book Fair will be outside KS2 in the morning and on the KS1 playground after school. We look forward to seeing you!
Art Competition
Please have a go at this wonderful art competition. We would love for you to enter.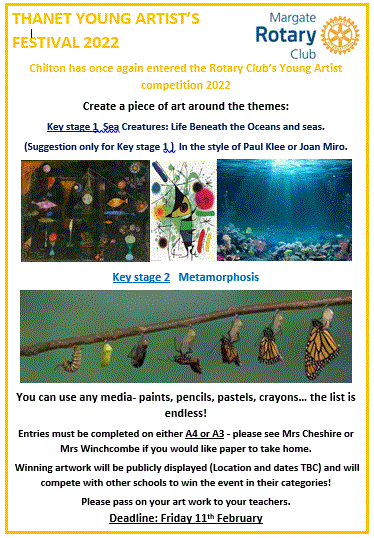 Reminders…
PE is on Monday – Please remember kit.

Please remember to tie hair back.

The Sports Project; Normal uniform, with trainers. – Tuesday
Have an amazing weekend and we look forward to seeing you next week!
Mrs Winchcombe and Mr Allen