Weekly News! w/b 13.6.22
It's the end of another fun-filled week in Year 1. This is what we have been learning about…
Read, Write Inc.
This week in Read, Write Inc. We have been working so hard phonetically reading words. In particular, we have been looking for special friends in our words, saying the sounds and reading the word. Any practice at home reading a word by finding the special friends, saying the sounds and reading the word would be greatly appreciated! We have also been working hard on our handwriting and writing sentences with capital letters and full stops.
Maths
This week we have been using our 100 squares to add. We found that if we jump down it is 10 and we go across in 1's. We found our first number in the calculation and circled it on the 100 squares. Next, we wrote the calculation out and portioned the second number into tens and ones. This helped us by jumping down ten and going across in ones to find the answer.
e.g. 45 + 23 = 68
Topic
This week in topic we looked at the artist Georgia O'Keeffe. We looked at Georgia O'Keeffe's paintings and said what we saw, what we think and what we wonder about the paintings. There were some beautiful discussions on what we could see, think and wonder. Next it was our turn, we practised the skill of sketching and using watercolours. We investigated what tools worked best when using watercolours. We found card is better than paper as the paper ripped when it got to wet. We liked using crayons and pencils to sketch, so we decided what we would use on our final drawing of a flower just like Georgia O'Keeffe.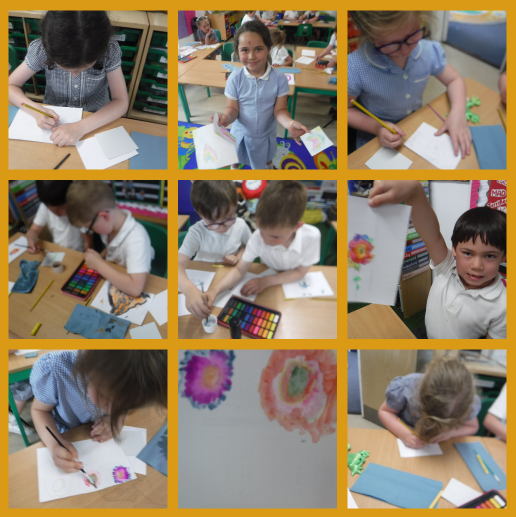 Next week
In RWI… we will be concentrating on our capital letters and full stops in our writing.
In maths… we will be learning to multiply using arrays of
In topic… our subject we are learning is Geography. In Geography we will be using maps to find United Kingdom and India. We will be comparing animals from these countries and looking at biomes.
Love 2 Learn
This week we would like you to write a diary entry for the whole week. Concentrating on careful handwriting and focusing on our capital letters and full stops. This does not need to be given in until Wednesday 29th June. We can't wait to hear what you have been up to!
Reminders…
Tuesday – 30 minutes of extra PE (wear uniform with trainers)

PE is on Wednesdays. Please remember to wear PE kit and tie hair back.

On Friday 24th June our School Fair is 3:15-5:00pm on the school field
Have an amazing weekend and we look forward to seeing you next week!
Mrs Winchcombe, Miss Hall, Mr Allen and Miss Miles