Home learning for Wednesday 13th May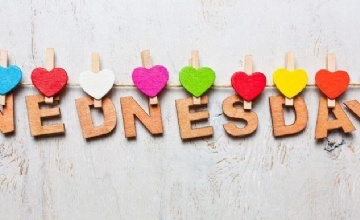 Wednesday 13th May:    
Morning Team Sky and Team Ocean!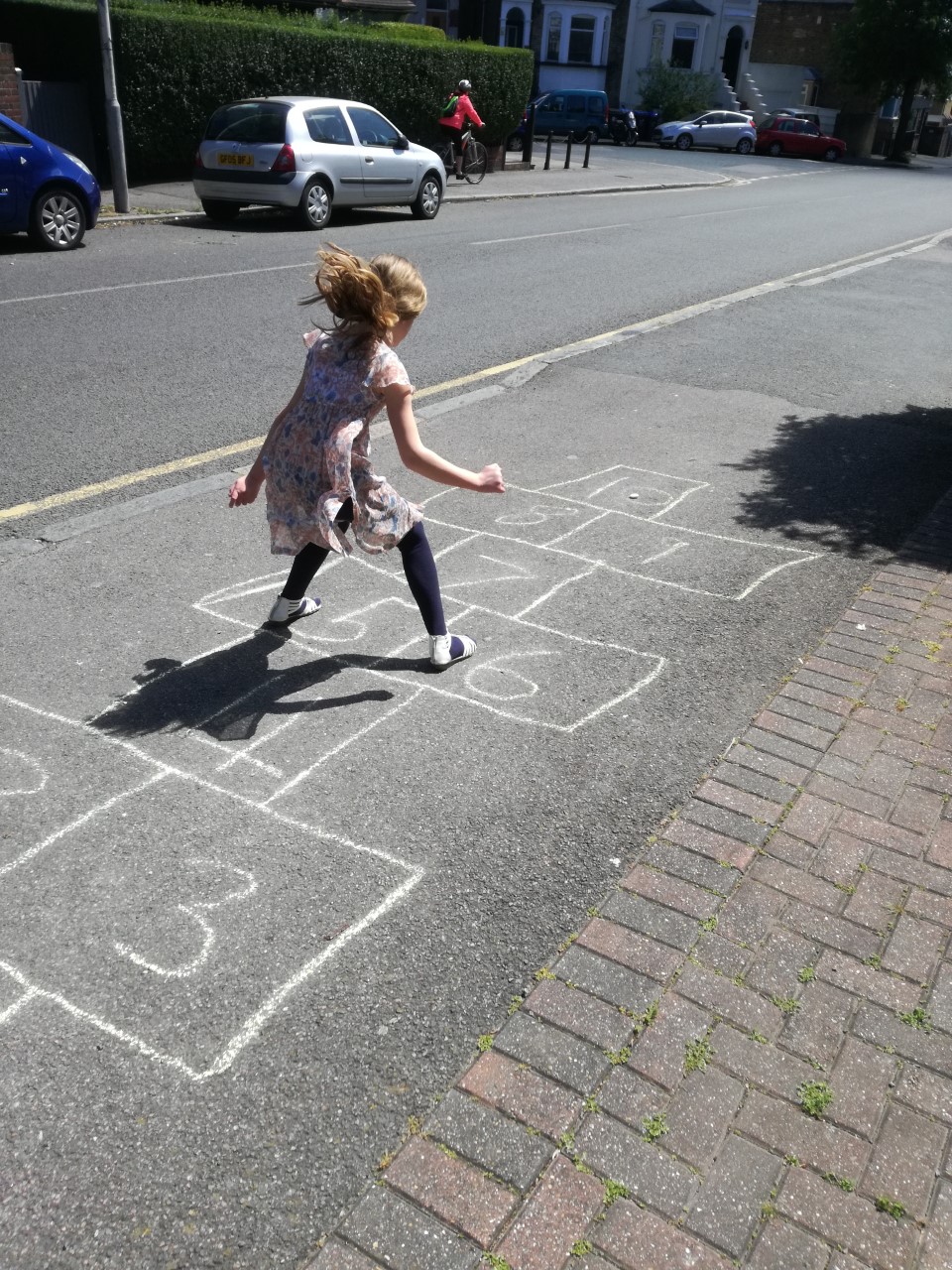 I am glad so many of you loved taking part in the hopscotch challenge yesterday! Take a look at Felicity in this action shot!
 Playlist: The Beatles!
 https://www.youtube.com/watch?v=NCtzkaL2t_Y&list=RDEMDwfWqCd9jXCuVO7pjkJHTw&start_radio=1 The Beatles were an English rock band formed in Liverpool in 1960. With a line-up comprising John Lennon, Paul McCartney, George Harrison and Ringo Starr, they are regarded as the most influential band of all time.
Fact of the day: The world record for the longest carrot ever grown is held by Joe Atherton of Nottinghamshire, who in 2007 managed to grow a carrot that was 19 feet 1.96 inches long. It took a total of 14 months to grow, in a specially designed 21 foot long plastic tube.
Morning Journal:   What is the funniest thing that has happened to you?
 Feelings:  What colour are you on this morning? I am feeling on blue this morning, I feel like I am moving so slowly, literally as slow as a snail. I'm sure after my cup of tea I might feel a little more awake!
Guided Reading and English:  
Day two of the writing challenge follows on from yesterdays video 'The Millipede'. Today, Martyn will show you how to illustrate a poem and how to develop a concept. He will also be introducing another 'brand new' poem and a sneak preview of one of the prizes in the competition. I really hope you enjoy the video and that it inspires you to begin to explore the life of animals around you, and begin to see the world from their perspective!
Remember, the competition will be formally launched on Friday, so sit back, put your creative hats on and enjoy the videos throughout the week. And here's the link https://vimeo.com/417315075
The Wurm
I cannot write about the wurm
without the need to..shudder!
..for this slim fellow, smoothe and blind
is like no beastie other!
I know I've said the millipede
is somewhat like the wurm,
but - for some reason I don't know,
he doesn't make me squirm!
..and - whether it's a thousand feet,
or just a hundred and one,
the milli-beast and centipede
are sometimes seen in the sun!
Not so, our little wriggly friend,
who digs for all he's worth,
(preferring dark, decaying stuff
what soaks into the earth)…
..and yet! For all his loathesome traits
(the wriggling without end)
it seems his work improves the soil
- so he's the gardener's friend!
Oh Wurm, Oh Wurm, I read you wrong
(forgive my nervous blood)..
I just feel slightly squeamish as you
wriggle in the mud!
Oh wurm, oh wurm, the time has come
to finish off my tea,
and, so I sit and ponder: Who
is blinder,
..you?
….or me?
Task: Can you organise the words… Adjective – describing words Noun – a word to identify a place, person or thing.
You can demonstrate this in any wish you way!
You could make a poster of adjectives or nouns

You could create a table

You could create a wordle http://www.wordle.net/
Maths:  Today we will be continuing with our pictogram learning. Take a look at Adam and Francesca's great Maths learning yesterday and Beau's tally chart on how many coloured balloons he had at home!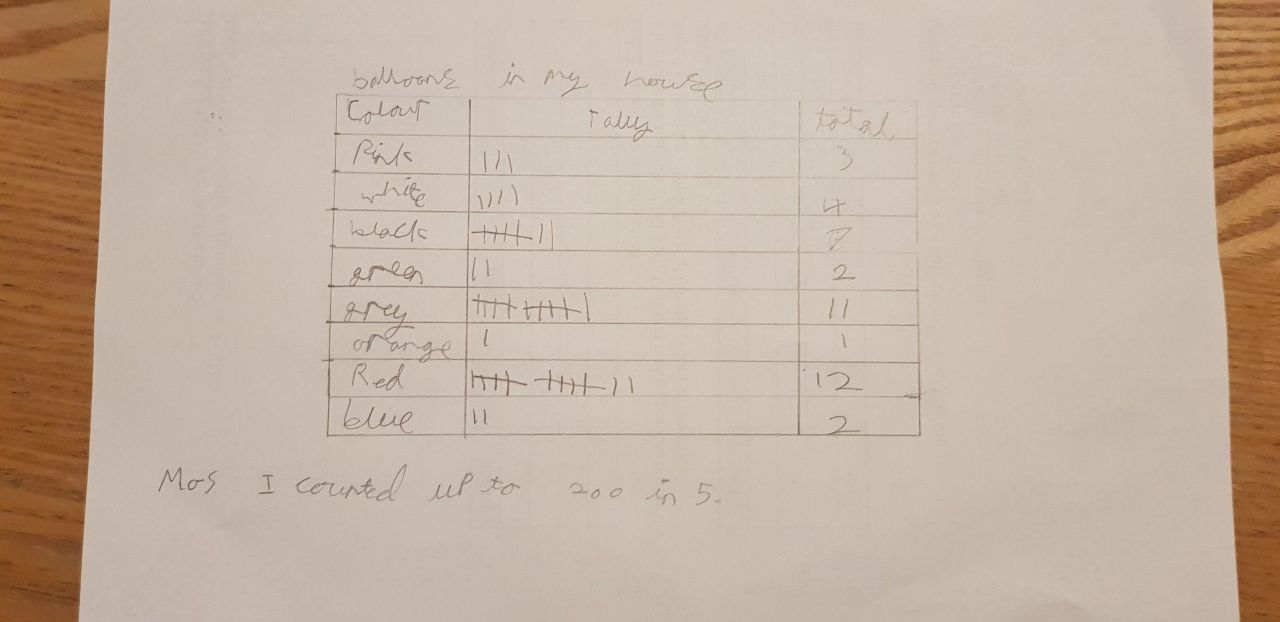 MOS: I'm thinking of a number... Remember to say clues about the number using your mathematical vocabulary for example how many tens it has, is it odd or even, is it below a certain number. For example, I am thinking of a number, it has 5 tens, an even amount of ones and it is smaller than 52.
Task: Today we will be improving our fluency skills with pictograms! Take a look at the sheet attached.
Questions on a pictogram
Fill in the blanks
Agree or disagree
Create your own!
 Music: For Music you need to have excellent listening skills. For Music today we would love for you to listen to the natural music of outside.
What can you hear?

What does it sound like?

How does it make you feel?
Helping at home challenge: Today we would like you to help with the washing. Either help put it into the washing machine, fold the dried washing or put the washing away.
Have a wonderful day, don't forget to send us photos of what you get up to. We would love to put them on the blog to share with rest of Team Year 2!
Lots of love,    
 Miss Davey and Miss Keam    
 #Chiltonhomelearning 
Please enter some content for your blog post here.