Weekly news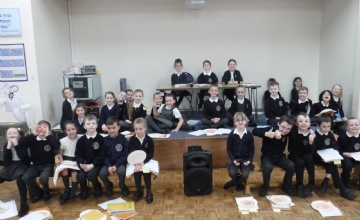 In maths this week, the children have been using their times table skills to calculate fractions of amounts e.g. what is 1/5 of 25? They have then been challenged to find fractions such as 2/3 of 15. Year 2 have also revisited telling and reading the time. This is always a tricky topic for the children so please get the children to read the time as much as possible at home!
In English, year 2 have finished their latest book 'Max'. They have written from different perspectives, carefully selecting language for impact on the reader. The children have also listened to another poem by Brian Moses, which they really enjoyed and wrote their own version of what they think happens behind the staffroom door!
For home learning, every child has been sent home a pack of 'special booklets' to practise the style of questions they will encounter during SATs in May. These style of questions are still new to the children so they will need some support when answering them. Please continue to read as often as possible and record this in their reading records. If your child needs a new record, please ask your class teacher.
Messages
* Parent consultations are the first week back after half term on the week beginning 25th February. Please book online or email for class teacher if you need to arrange a different time.
* Miss Cheshire has set a reading challenge for over the half tem holiday. Your child has been given a letter with a range of reading challenges with participants entered in to a prize draw.
* Thursday 28th February - Dover castle trip. We are visiting Dover castle on the first Thursday after half term and children must be in school by 8:20. Please ensure your child has their coat, hat and scarf and water bottle as part of the trip will be outside. We will be back to school for normal home time.
* We may need some additional adult support for the Dover castle trip so if you are available for the day, please speak to Mrs Rowland-Hill or Mr Pile.