Weekly news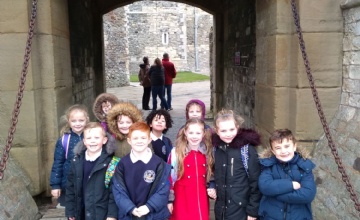 In maths this week, year 2 have been using rulers and metre sticks to measure in centimetres and metres and decide which would be best to measure objects such as apples, buildings and people. They have also discussed what the temperature is and used thermometers to test the temperature of their heads!
In English, year 2 have been reading a book about helping to save our planet. This book has ideas about recycling, saving energy and feeding birds. There is not a lot of information in this book so the children wrote their own version, adding in more detail about why it is important to recycle and save energy. The children used skills such as using a range of punctuation (. ? !), using different ways to start a sentence and they have been focussing on checking their work for any spelling errors.
Year 2 spent Thursday at Dover castle and behaved amazingly! They were so engaged and excited nd all adults were extremely impressed with the children. Check out our pictures below!
HOME LEARNING
This week, the children have been sent home a maths pack with a range of activities that we have covered so far this year and the children may need some support understanding each question. Good luck!