Weekly News 6.12.19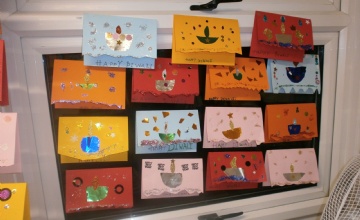 Maths
In maths this week the children have been learning about volume and capacity. They have learnt that volume is measured in millilitres or litres and that 1 litre is the same as 1000ml. They have been reading scales that go up in different intervals to help them measure volumes of liquid in containers. Some of the scales have gone up in 1s,2s,5s,10s, 20s, 50s and 100s. Some of the trickier scales that we looked at went up in 15s, 25s, halves, quarters, 250s and 125s. We then ended the week by solving some word problems that involved volume. These were addition and subtraction problems and the children used the column method to try to solve the problems. For example, If Katy has 363ml of squash in a jug and she pours out 159ml of squash, how much squash is left in the jug?
English
Our writing unit at the moment is all about poetry. We have been studying the classic traditional poem called Twas the Night Before Christmas by Clement C. Moore and using this to identify the features of a poem and then write poems of our own. This week we have learnt how to write a poem with rhyming couplets (2 lines of a poem where the last words rhyme) and how to include similes in our poetry. The children have also been learning how to lay out a poem on a page by starting a new line for each new line of the poem and ending each line of the poem with a comma. Next week we will continue with poetry and learn about onomatopoeia and alliteration.
RE
This week we have been learning about Hinduism in RE. The children have learnt about the Hindu festival of Diwali. During this, they have listened to the story of Rama and Sita that explains why Hindus celebrate Diwali. We have made Diwali lamps using clay and the children made some amazing Diwali cards.
Messages
Food technology - Next week the children will be designing, making and eating some healthy pasta dishes. We are aware of food allergies and children who are vegan. Please let us know any other information regarding this before Tuesday. Many thanks.
Christmas Come Dine with Me - Year 3 Christmas Come Dine with me is on Wednesday 11th December
- Sibling Come Dine with me is on Friday 13th December
Our KS2 Xmas parties will be on the afternoon of Monday 16th December - more information to follow
Tuesday 17th December - Year 3 and 4 Christmas Carols Service - 10am - this is now being held in the school hall as the Church's boiler is broken
Weds 18th December - school finishes at 2pm for Xmas break