Weekly News 28.2.20
English
This week, we have started our new book, Charlotte's Web. We have read the first three chapters together and written diary entries as three of the characters from the book. Our task was to express the viewpoints of each character and how the events that have unfolded have made them feel. We have used emotive language to describe the character's feelings and emotions.
Maths
In maths we have been looking at statistics. We have been interpreting data using bar graphs and pictograms and inputting data into tables.
PSHE
We have been focusing on British Values this week. The four British Values are Democracy, Rule of Law, Individual Liberty and Mutual Respect. The children have had some very good discussions about these topics and what each value means to them. We have created artwork that shows our individuality and how being different is important, created our class rules and voted on them and final talked about mutual respect and discussed how we show respect to everybody and how have shown respect to us.
Home learning
Last time, for statistics we asked you create a bar graph, this time we would like you to create a pictogram.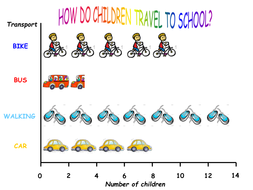 Above is an example of a pictogram showing modes of transportation children use to arrive to school. The children can make their pictogram about any subject they choose.
Spelling
Mrs Cousins Group: Biggest, slimmer, saddest, thinner, hottest, madder
Mr Mason's Group: Wrinkly, smugly, finally, rudely, feebly, comically
Messages
World Book Day is on Thursday 5th March. Please remember that the children are asked to dress up as their favourite literary character. Please see Book Week post for any other information.
On the 25th March between 9:30 and 11:30 we will be walking down to Pegwell Bay for a beach clean. We are in need of parent helpers, so if you are available and would like to help, would you please inform Mrs Cousins and Mr Mason.