Friday 11th September Weekly blog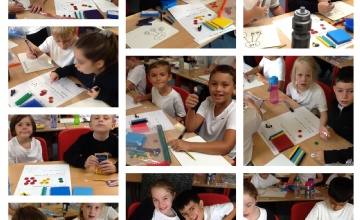 Year 3 have made it through their first full week back and have ended it with smiles on their very tired faces! A huge well done to all of the children for adjusting back to school life so very well. We are so proud of you all.
So what have we been learning?
English and Guided Reading
We have begun a beautiful folk tale called 'The Princess and the White Bear King'. We have explored the language of the story and in writing, built up a fantastic vocabulary to describe the bear and his actions. Next week we will be writing setting descriptions using these skills and developing our sentences further.
Spelling and grammar
We have been going back to basics and making sure we are secure in our sounds and our full stops and capital letters! We have been recapping a different sound everyday and practising spellings using segmenting and blending. We have been editing and improving sentences and making sure our own are punctuated accurately.
We have spelt words with the phonemes 'ay', 'ee', 'igh', 'ow', 'oo' and 'ar'
Maths
We have been incredible at representing and recognising 2 and 3 digit numbers. We are able to represent numbers using resources, diagrams and words. We were able to identify numbers on an empty number line and have begun to practise our times tables - it's great to be back using TTRS!
Values
We have been learning about our feelings and emotions and how to use different strategies to move into a different 'zone'. We have been learning about respect and we focused on self-respect, making sure we could say positive things about ourselves. Watch this space for some of our amazing collages.
Reminders
A huge thank you for all coming to school in your PE kit this Thursday!
Remember to put your book bag in the box so that we can clean them before they head back to the shelves.
Have a lovely weekend!
The Year 3 Team
Please enter some content for your blog post here.