Weekly Blog Post: 26/3/21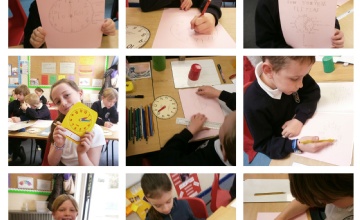 English
This week for English we have been trying to write from different viewpoints. Using this terms reading book, Lila and the Secret of the Rain, we looked at various characters and tried to understand how they felt and then wrote a letter from their point of view. We used emotive language, various tenses and causal conjunctions to help us do this.
Maths
In maths we have been learning to tell the time. We have used analogue clocks to tell the time to the nearest minute and learnt the difference between AM and PM.
Topic
Our Jedi mission this week was to use materials to create our own moon buggy. We learnt about Sir Isaac Newton's 3rd law of motion and used it to help us design our buggies using balloons, straws, cardboard, a lot of masking tape and wheels. Although not all were successful, we were all able to identify what we needed to improve and apply it to our designs.
Messages
Please can everyone remember their reading books for next week. It's really important everyone has a new book read for the holiday.
Wednesday 31st March is our second Star Wars dress up day. We can't wait to see all the Lukes, Leias, Wookies and Mandalorians!
Have a great weekend!