Weekly News - 30th April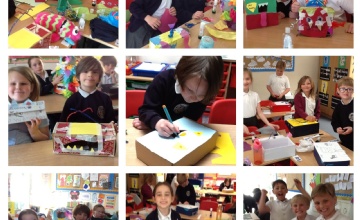 The children in Year 3 are very much back in the swing of things and are producing incredible learning in all of their subjects! We are so proud of them! What have they been up to?
English
We are totally in love with our class book, Charlotte's Web, and are really enjoying reading it together. We are blown away with how much the children are using inference and can explain how they know a character's traits by a quote from the book. This week we have been writing character descriptions. We focused on the character's appearance, personality and actions. We used expanded noun phrases and verbs and adverbs brilliantly! Watch out - we can spot them everywhere now!!
Maths
This week we have been working on mental strategies for addition and subtraction. We have used our firm understanding of place value to add tens, hundreds and thousands mentally. We also got to grips with 'near numbers' to help us estimate, and even tackled empty number lines, counting backwards. Impressive stuff!

Topic
Over the next four weeks our learning is based around the artist, ,Chris Ofili. Ask us about him - we know so much! This week we expored his pattern making and etchings. We created beautiful doodles and our own amazing etchings. Next week we will look at stereotypes and identify.
LOVE TO LEARN
We are restarting our home learning and this week we are going to have a maths focus. We would love for the children to practice using a number line to add and subtract. They can choose their level of difficulty from the following website:
https://mathsframe.co.uk/en/resources/resource/113/add_and_subtract_on_a_number_line
We also have a practise sheet that the children can take home if they do not have access to the online game.
Additional notices:
Don't forget that Monday is a bank holiday! We will see the children on Tuesday
Number day is next Friday and the children can dress up
Please read as often as possible at home. Thank you!
Have a fantastic weekend,
The Year 3 Team
Please enter some content for your blog post here.