Year 3 Weekly News 14.1.22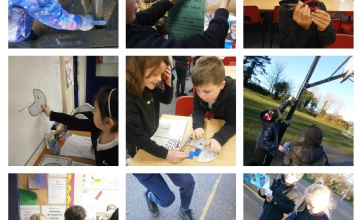 English
This week we have been writing persuasive letters involving the characters of Lila nard the Secret of Rain. We have been using superlatives, rhetorical questions, modal verbs and conjunctions to help us write our letters and persuade people to see our point-of-view. Year 3 have been phenomenal this week and produced some incredible writing. We hope that this continues into next week!
Maths
For maths, we have been looking at perimeter and angles. We know that there perimeter of a shape is the total of all the sides. We also learnt that a right angle equals 90 degrees and that an acute is less than 90 and an obtuse angle is greater than 90 degrees.
PSHE
It has been Champions of Courage Week this week and year 3's champion was Chadwick Boseman. We discussed why he was courageous, why he was important and how he was a role model for millions of people around the world. We discussed the importance of courage, self-respect and identified our own personal qualities.
Home Learning
For your Home Learning we would like you to;
Maths: Identify as many angle in your house as possible. Make a tally chart to see which angle is the most common.
English: Write a persuasive letter to your teacher. It can be persuading them to do anything. For example: have Golden Time all afternoon on a Friday, have bean bags instead of chairs, play The Spice Girls for music artist of the week every week, teach in the forest school in the summer for every lesson.