Weekly Blog Post - 18.3.22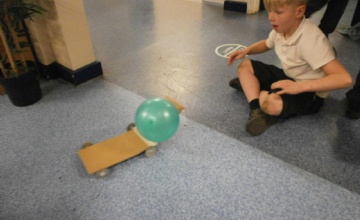 English
This week, we have been writing a narrative similar to our book; Charlotte's Web. We have been including features such as adverbs to show time, prepositions to show place and conjunctions to tell us cause. At the end of the week, we rewrote Charlotte's Web, using all of the features we have learnt throughout the week.
Next week we will be writing non-chronological reports about spiders!
Maths
We have been revisiting time this week, focusing on reading analogue clocks to the nearest minute. We have also been comparing durations of time, making sure we convert our durations into the same units of measurement first.
Next week we will be reinforcing our knowledge of the four operations, starting with addition.
Topic
Continuing our 'May the Force be with you' topic, we designed and made moonbuggies that were able to travel using thrust and friction. We used simple materials such as card, straws and balloons to make them. We tested our buggies and discussed any problems we came across if they did not work. We were able to then identify the issues and fix them.
Love to Learn
For your Love To Learn this week, we would like you to research and create a poster about spiders. Find as many facts as you can and display them as interestingly as possible. Your poster can be about a particular type of spider or about all spiders. Try and get some drawing, painting or design of a spider into your posters.
Please enter some content for your blog post here.