Weekly News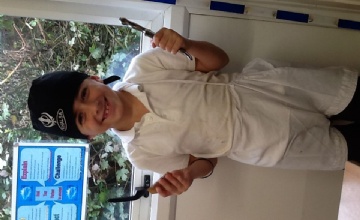 Check out what Year 4 have been up to this week!
Weekly News – 18thh October 2019
Thank you for all the wonderful artistic photos that have been emailed in this week!
In our Maths lessons this week, we have been working on telling the time. We made our own clocks and then spent time discussing the roles of the short hand and the long hand. We also looked at what each number on the clock represents. We then practised telling the time on our own clocks and discussed the differences between analogue and digital clocks.
In English, we have continued reading Gregory Cool. We wrote a diary entry and a letter from Gregory describing how unhappy he is in Tobago. We then wrote a letter back to Gregory from his mum telling him to hang in there before writing back as Gregory after he had a wonderful time on the beach. The skills we focused on were using time conjunctions, using conjunctions to express cause and effect and using paragraphs to structure our writing.
We have been working through our first RE unit of the year learning all about different aspects of Sikhism including the Sikh naming traditions, the Amrit ceremony and they 5 K's that a Sikh man must keep with him at all times.
We are currently encouraging the children to play as much Times Tables Rockstars (ttrockstars.com) at home. When logging in, please select 'Chilton Primary School, Ramsgate'. Children's log ins are the same as their MyMaths log ins (please see your teacher if you need your child's log in).
Have a wonderful week's rest and we will see you back on Tuesday October 29th
IMPORTANT DATES:
29th October – Start of Term 2 (Monday is INSET day)
15th November – Children in Need – Spotacular – Wear spots for a voluntary donation
21st November – Spelling Bee
27th November – School closes 2:30pm – NO CLUBS (except French)