Weekly News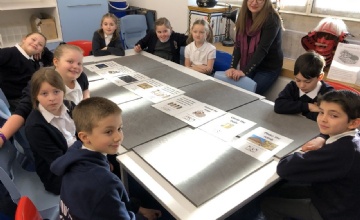 Weekly News – 31st January 2020
In Maths this week, we have been looking at fractions and decimals. We looked at how to find tenths and how to calculate their decimal equivalents. We then looked at different problems applying our knowledge of tenths, both in fraction and decimal form.
In English, we were introduced to magnificent but devilish Sir Ironsoul and spent time writing a balanced argument on whether or not Karl should use Sir Ironsoul as his figure in the clock tower with reasons both for and against. We also completed a big write with guides written to Karl by Dr Kalmenius and Herr Ringelmann. We completed part one of the story and are all worried for poor Gretl!
We had a wonderful trip to Maidstone Museum, where we learnt a lot and where we saw a real life mummy! Thank you to the parent helpers who were able to join us for this trip!
Another thank you to all the parents who came to see our drama performance on Friday afternoon! We hope you enjoyed what was a wonderful culmination of all the children's hard work!
HOME LEARNING –
For their Love to Learn task this week, we would like children to design/create/show a figure that they would put in the Great Clock of Glockenheim if they were Herr Ringelmann's clockmaking apprentice.
There is no right or wrong way to complete a Love to Learn task! Please be as imaginative or as creative as you would like! Love to Learn tasks should be returned on the Wednesday following them being set. Whilst books may not be formally marked, in class we will spend time looking at and enjoying what everyone has learned at home and rewards and house points will be given!
We are still encouraging the children to play as much Times Tables Rockstars (ttrockstars.com) at home. When logging in, please select 'Chilton Primary School, Ramsgate'. Children's log ins are the same as their MyMaths log ins (please see your teacher if you need your child's log in).
Online book club!
So that the children can share their reading choices we have created an online book club. When they have read a book that they have loved, they can log in and write a review on our site. The link to this site is below:
https://padlet.com/michaelagale22/h7n5ff4vam8w
The children will be given a password so only the children and families of Year 4 can view comments.
We can't wait to see what they are reading!
IMPORTANT DATES
Friday 7th February – KS2 Mastermind & Number Day! (come as your favourite Rockstar!)
Friday 14th February - End of Term 3
Monday 24 February – Staff Development Day