Weekly News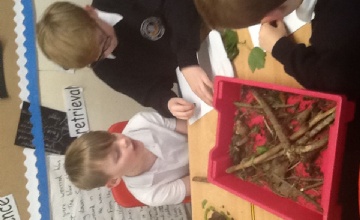 Weekly News – 7th February
We loved all of the wonderful rockstar costumes today on Number Day!
In Maths this week, we have been looking at fractions and decimals. We recapped tenths then we moved onto to working with hundredths. We completed a number of practical methods of finding tenths and hundredths before comparing different decimals.
In English, we have read 'part two' of Clockwork and have heard all about Prince Otto sacrificing himself for his son. We wrote some suspense after what happened to Gretl at the end of last week's reading before moving on to emotive language. We wrote about how happy Princess Mariposa would be holding her child for the first time and about the anguish Prince Otto would feel when deciding whether to sacrifice himself or not.
We have started out brand new IPC topic 'What's it made of?' this week! We completed an exciting entry point where we went foraging for natural materials in the forest school before creating pieces of artwork using only our natural materials. We also looked at the different states of matter, identified, and experimented with solids, liquids and gases.
HOME LEARNING –
There is a MyMaths task set to be completed by 14th February 202
We are still encouraging the children to play as much Times Tables Rockstars (ttrockstars.com) at home. When logging in, please select 'Chilton Primary School, Ramsgate'. Children's log ins are the same as their MyMaths log ins (please see your teacher if you need your child's log in).
Online book club!
So that the children can share their reading choices we have created an online book club. When they have read a book that they have loved, they can log in and write a review on our site. The link to this site is below:
https://padlet.com/michaelagale22/h7n5ff4vam8w
The children will be given a password so only the children and families of Year 4 can view comments.
We can't wait to see what they are reading!
IMPORTANT DATES
Tuesday 11th February – Safer Internet Day
Friday 14th February - End of Term 3
Monday 24 February – Staff Development Day
week beginning 2nd March – Book Week
5th March – Book Day