Weekly News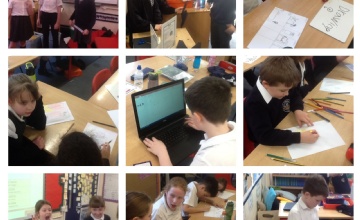 Weekly News – 13th March
In English, we have started reading a new book called 'Tales of Wisdom and Wonder'. The book is a collection of different stories from all around the world. The story we read this week was a Haitian story titled 'Monkey and Papa God'. In the story, Papa God gives monkey a bag of 'misery'. We used figurative language to describe our own bags of misery before improving the ending of the story using figurative language.
In Maths, we have been working on Time. We had a converting between analogue and digital time refresher lesson before moving on to different problems involving time conversions. We looked at seconds, minutes and hour before moving on to the days, weeks and months.
In the afternoons this week, we continued our RE 'Importance of Easter to Christians' unit as well as working on our new Topic 'What's it Made of?'. We had a great lesson scientifically explaining what happened to water when it was heated. We made fantastic observations and used stem sentences to help us.
Home Learning
To help us with our understanding of time, we are setting an open ended project for the children to investigate it in any way they wish! They could research the history of the calendar, make a sundial, come up with an easy way to remember to tell the time... the possibilities are endless (!)
We are still encouraging the children to play as much Times Tables Rockstars (ttrockstars.com) at home. When logging in, please select 'Chilton Primary School, Ramsgate'. Children's log ins are the same as their MyMaths log ins (please see your teacher if you need your child's log in).
Additionally, children are using the following website to test their score out of 25. This gives the children the 6 seconds for each question that will be in the upcoming times tables assessment. It is:
https://mathsframe.co.uk/en/resources/resource/477/Multiplication-Tables-Check
Online book club!
So that the children can share their reading choices we have created an online book club. When they have read a book that they have loved, they can log in and write a review on our site. The link to this site is below:
https://padlet.com/michaelagale22/h7n5ff4vam8w
The children will be given a password so only the children and families of Year 4 can view comments.
We can't wait to see what they are reading!
A REMINDER - ALL TOYS FROM HOME (BEYBLADES FOR BEYBLADE CLUB ARE ALLOWED AT LUNCH TIME ONLY) ARE NOW NOT ALLOWED IN SCHOOL
IMPORTANT DATES – Please check emails for any cancellations or changes.
13th March – Sport Relief
Week beginning 16th March – Mother's Day lunch
20th March – Rock Your Socks day
1st April – End of term – 2pm finish
Please enter some content for your blog post here.