TTRS - Guinness World Record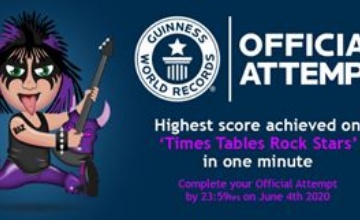 Guinness World Records has created a new title - Highest score achieved on 'Times Tables Rock Stars' in one minute - and TTRS are looking for players to aim for this special accolade. All the children have to do is submit a video of them playing a Studio game with the highest score in the world by 23:59 on 4th June 2020.
Should I enter?
Over the years TTRS have seen some incredibly high scores in 1 minute games, like the astonishing 186 in the video on the web link provided below. That gives you an idea of how fierce the competition will be for this Guinness World Records title. With lots of practice can you become the number 1 in the world?
Social media vs Official Attempts
We'd love you to share your efforts on social media using #FastestRocker and copying in @TTRockStars and @GWR but all Official Attempts must be sent by email to support@mathscircle.com (see below for details).
Questions you may have:
Can it be any game mode?
No, it must be a Studio game.
Can a player submit more than one Official Attempt?
Yes, so long as each Official Attempt is to show us a higher score than the last time.
Will we get to see the winning video?
Yes, the video will be uploaded to the Times Tables Rock Stars YouTube channel with comments disabled and the winner's rock name and country in the description.
Will we hear back from you?
If the score is 150 or above then yes, we will confirm receipt of your Official Attempt.
Can it be on a tablet?
Yes. Tablet, mobile phone, desktop, laptop…the technology doesn't matter.
What does the record holder win?
Well, hopefully a lifelong satisfaction at being a Guinness World Records title holder! Also an official certificate and a lot of recognition from us at TTRS. There may well be press who would be interested in running a story on the winner. Please be prepared to be interviewed by friendly journalists.
Can players make Official Attempts at any other time of year?
Yes, once the first Guinness World Records title holder has been named, if the same person or someone else in the future beats the score achieved by the Guinness World Records title holder and meets the same requirements as before (i.e. sends the corresponding video to support@mathscircle.com (opens in new tab)) then the adjudicators will review the evidence and update the Guinness World Records with the new details.
Here is the link for more details...