Weekly Blog - 1.10.21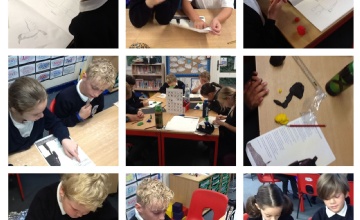 We are at the end of another amazing week of learning! Let's find out what we have been learning!
Maths
This week we have been learning different ways of multiplying. We began by learning to multiply by 10 and 100. We then learnt to multiply 2 and 3 digit numbers. We moved from using place value counters onto the formal written method! We have fantastic understanding of place value which really helps us understand why we regroup.
English
We became poets this week and used beautiful figurative language. We learnt how to construct similes and metaphors and used personification to bring inanimate objects to life! We began our new story, The Iron Man. We loved finding him all broken up in our classroom! We also love the description of his parts trying to find each other! Next week we will be learning to write suspenseful pieces. We will make our readers feel scared reading our amazing writing!
Topic
This week we continued to learn about food chains and webs. We then learnt about our impact on the planet in Geography. We found out that the most dangerous animal on the planet is..... US! We were fantastic at learning about the threats to penguins and we were able to share our views on how we have a positive and negative impact on our planet. Next week we will be learning all about TEETH!
Home Learning
We learnt that Penguins are being threatened by changes to the environment but are there any other animals that need protecting? Choose an endangered animal and find out what we can do to protect them. You can make a poster, a video or even a presentation! Be creative!
Reminders
- Please read as often as possible at home. If children are reading independently, they are able to write their own entries in their reading record books.
Home Reading
Thank you for your continued support with your child's reading. Please remember to encourage your child to take their Accelerated Reader quiz when they have finished their book. You can access our AR site here https://ukhosted34.renlearn.co.uk/1892319/ or through our school website Home Page. Your child's username is the first three letters of their first name followed by their surname. The password is chilton (lowercase) for example: Username for Joe Smith would be JoeSmith and the password is chilton.
Thank you for your continued support.
Helen Rowland-Hill
KS2 English Lead