Weekly News - 15.10.21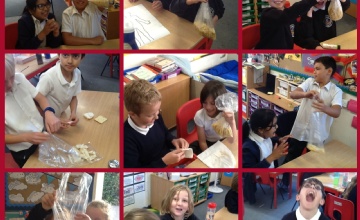 What an incredible week we have had - and what a messy one! Let's find out what we have been learning.
Maths
This week we have been learning how to divide and we have moved on to our formal method of using the bus stop! We began with counters and learnt how to share larger numbers by partitioning tens and ones. We then looked at the difference between grouping and sharing. We used grouping to help us use the bus stop method.
We say.. The rule of the bus is... you can only get on in groups of...
This has really helped us remember the steps to divide. We also use jottings to stop us from getting confused. Next week we will be learning about TIME!

English
We started the week by writing INCREDIBLE suspense stories. We were amazing at using our skills from last week and the teachers and TAs really were blown away by the quality of writing. We then began to look at recount writing. In our story, the farmers realise that something is eating their machinery. They are furious and decide to trap him in a large pit. We had great fun pretending to be farmers and then we turned into interviewers and wrote up the events in 3rd person.
Topic
Here's where it got messy! We learnt about our digestive system by making models of our stomach and intestines. We predicted what we thought would happen and learnt lots of new words to label our organs. Ask us about our new science words!
Home learning
Our topic, Mi Casa et tu Casa has made us realise that we need to look after our home - after all, there is only one earth! What can you do to make a difference? Could you do some junk modelling with your recycling? Could you do a local litter pick? Could you make a poster to make people aware of how we can look after our planet?
Notices
Next Friday, 21st October we will be going on a local trip to do a community litter pick. We will go after our assembly and be back for 11am. The children should also get time to play in the park as a reward for their wonderful learning behaviour in Term 1.
School photographs are on Tuesday 19th October
Please encourage your child to read as much as possible at home - once they complete a book they need to do an AR quiz. Details of this have been sent home and have been on prior emails.
Thank you for your continued support,
The Year 4 Team
Please enter some content for your blog post here.