Weekly News - 12.11.21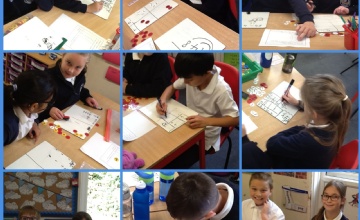 This week we have been continuing focusing on our wellbeing, and we have reintroduced peer massage into our school day. We have been using breathing techniques and kind hands to calm ourselves in the afternoons. We have been doing some incredible learning this week. Let's find out what!
English
This week we have been creating characters using incredible vocabulary. We began the week describing the main hero from our story - Ivan. We used expanded noun phrases and adverbials to show what they look like and how they act. We will use these characters when we write our own stories in two weeks time.
Maths
This week we have been continuing our learning of fractions. We have been learning to add and subtract fractions and we have been using the bar model to support us. We now know how to take away fractions from whole numbers with our brilliant understanding of the numerator and denominator.
Topic
We have begun our Egyptian topic and we kicked off the learning with such a fun entry point. We turned our classroom into ancient Egypt and explored tombs and hidden treasures! For our art part we explored, designed and made incredible death masks. Death masks were to help the souls find their bodies so that they could cross over into the afterlife. So interesting!
Love to learn
This week we would love you to start exploring Ancient Egypt - focus on what you find the most interesting. Is it Gods and Goddesses? Is it the pyramids? Do you want to know about discoveries in tombs? Your project can be written, filmed, an art piece - whatever inspires you! Have fun!
Notices
Read, read, read! Remember you can access the AR quizzes through the school website. If you need your log in details again, please let us know
Monday 15th November is Odd socks day! We will be learning about positive and negative relationships at school and who we can talk to if we feel like people are being unkind to us.
Parent teacher consultation appointments are available to book through Bromcom. Friday 19th November is our parent book look from 3:15 - 3:45
Also on 19th is our Children in Need pyjama day!
Have a lovely weekend,
The Year 4 Team